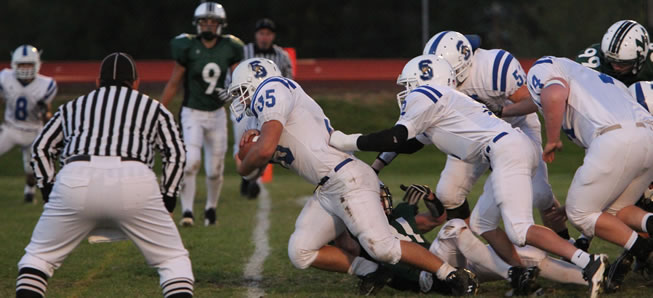 Hornets Fall to South
By: Ed Weaver / October 2, 2010
The South Williamsport Mounties picked up their first win of the 2010 season by defeating the Wellsboro Hornets, 54-32. South Williamsport scored four first quarter touchdowns and cruised past the Hornets to pick up the victory.
Despite five turnovers, Wellsboro was able to bounce back to put points up on the board. Sophomore Quaterback Ben Shaw tied Todd Coolidge's Wellsboro Football Record* for touchdown passes in a game with four. Shaw connected with Senior Receiver Nick Saniga for one and Senior Receiver Ethan Callahan for three. Shaw is also now tied with Cameron Jones with 12 touchdown passes in a single season and Callahan sits in first place for touchdown catches in a game with three.
Wellsboro's other touchdown came from Junior Running Back Chase Barnes in the fourth quarter. Wellsboro will be in action next Friday night against the Wyalusing Rams. Kickoff is scheduled for 7:00 p.m.
* - Records may not be accurate to date due to incomplete stats. If you know of a record not currently listed on this website, or have game statistics or film from previous years, please contact us.