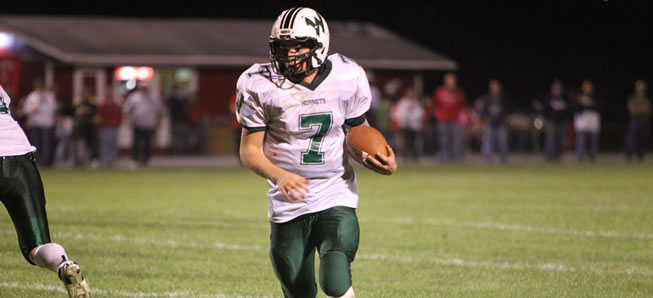 Hornets Pick up First Win of 2010
By: Ed Weaver / September 18, 2010
After a shaky first quarter, the Wellsboro Hornets rebounded and used a strong second half performance to defeat the Cowanesque Valley Indians and pick up their first win of the 2010 season by the final score of 33-28. Wellsboro found themselves trailing 22-0 near the end of the first quarter, as Cowanesque was able to capitalize on fumbles and interceptions.
However, Wellsboro quickly rebounded from their mistakes and controlled the remainder of the game. The Hornets struck late in the first quarter when Sophomore Quarterback Ben Shaw connected on a 66 yard touchdown pass win Senior Receiver Ethan Callahan. Shaw would score on a quarterback keeper in the second quarter and connected with Senior Receiver Nick Saniga in the third quarter to bring the Hornets within two points.
Wellsboro finally took the lead late in the third quarter, and sealed the game in the fourth quarter thanks to Ethan Callahan. Callahan's first score in the second half came when he stripped the football from a Cowanesque ball carrier and raced 75 yards to the end zone. His second score came early in the fourth quarter when he connected on a 68 yard pass from Ben Shaw.
With the win, the Hornets improve their 2010 season record to 1-2 (1-0 NTL Large School Division). The Hornets will be in action this coming Friday for Homecoming as the take on the Athens Wildcats (1-2, 1-1).