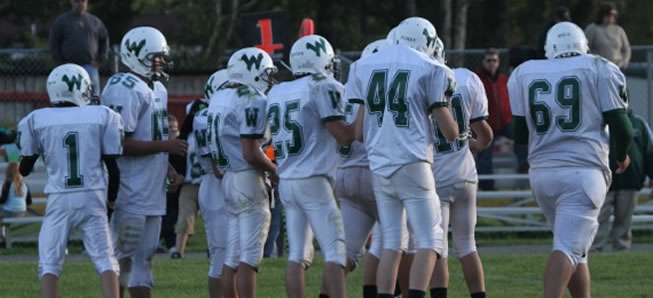 Hornet Middle School team picks up win over South Williamsport
By: Ed Weaver / September 22, 2011
The Wellsboro Middle School Hornets played a solid, disciplined game against South Williamsport. The Hornets controlled the game from the first kickoff as Tony Cooper recovered his own short kick to get the ball. The ground game was going on the first drive, as Nick Tremper scored a touchdown. Brody Coolidge forced a fumble to put the Hornets back in business. The ground game continued to excel as Tremper scored his second touchdown of the quarter.
Each team exchanged possessions during the second quarter with no scores. The Hornets led 14-0 at the half. The Hornets line continued to control the line of scrimmage throughout the third quarter, but drives were halted by penalties. The Hornets defense continued to swarm, recording a safety early in the fourth quarter. The Hornets drove the short field after the safety and overcame penalties to punch in the touchdown on a Tony Cooper run. Evan Bair caught the two-point conversion to make the score 24-0.
South Williamsport scored a late touchdown to make the final score, 24-6. The Hornets can attribute their win to disciplined play on the line and defense. They took advantage of turnovers, dominated time of possession and controlled every area of the game.
The Hornets improve to 1-1 on the season as first year Head Coach Shane Mascho picks up his first career win. The Middle School Hornets will be back in action next Thursday night, September 29, as they host Athens. Kickoff is scheduled for 5:00 p.m.