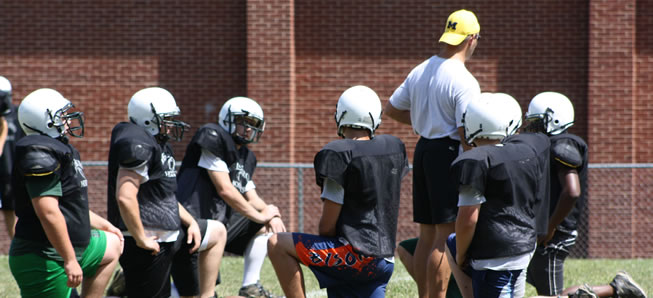 Hornets to Hold Dad and Me Football Camp
By: Ed Weaver / July 14, 2011
First year head coach Steve Boyce and the rest of the Wellsboro coaching staff will be holding a Dad and Me Skills and Drills Football Camp. The camp is open to any student entering 1st - 8th grades and will take place on Saturday, August 6, 2011 from 9:00 a.m. to 12:00 p.m. at the Wellsboro Area High School Wing Field (located behind the old high school). Cost of the camp is $12.00. A drawing will also take place for a chance at being a waterboy or helping out during a 2011 varsity game. Every participant and their practice buddy* will receive a ticket (1 adult, 1 student) to a home Wellsboro Football game in the 2011 season.
* - Each participant must have an adult (over 18 years of age) with them; it can be dad, an uncle, grandfather, mother, or older sibling that will be able to continue to help develop the player's skills after the camp is over.
Camp Schedule
8:30 - 9:00: Registration on the Wing Field at the High School (behind the wing field)
9:00 - 9:10: Welcome and Introduction of the Coaching Staff
9:10 - 9:30: Stretching and agility
9:30 - 11:30: Individual Skills Groups - players will receive instruction and practice skills in ball handling, stances, tackling, blocking, and agilities. (Instruction will be based on the player's age and skill level. More rigorous skills will be taught to the older groups.)
11:30 - 12:00: Wrap-up, Presentation of Certificates and Game Tickets, and drawing*.
* - We will hold a drawing, one from each age group, to win the chance to be an assistant water boy for one of our home games.
If you would like to pre-register you can print the registration form, place it in an envelope and:
drop it off in the high school office
drop it off in the high school weight room
drop it off to Coach Johnston at Chips
You can also:
Download and fill out the form and email it to sboyce@wellsborosd.org
Print it out and bring it with you the morning of the camp