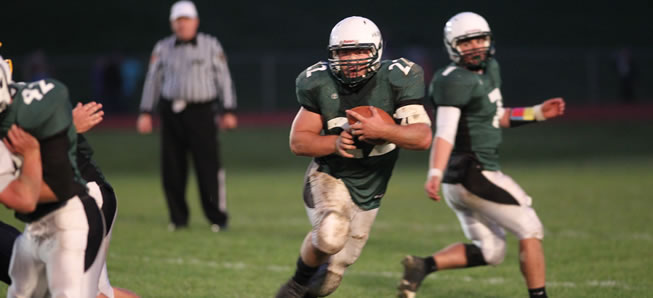 Johnston carries Hornets to win over Cowanesque
By: Ed Weaver / September 16, 2011
The Wellsboro Hornets defeated Cowanesque for their second straight win of the 2011 season, and second win in the same week by the final score of 28-8. Senior Running Back Thomas Johnston rushed for 208 yards on 24 carries and scored three touchdowns to lead the Hornets offensively. Senior Chase Barnes also added 37 yards rushing on 11 carries.
Junior Quarterback Ben Shaw led Wellsboro's ariel attack as he went 11-17 for 152 yards and one touchdown. Junior Dan Saniga caught two passes for 38 yards and hauled in Shaw's touchdown. Junior Thomas Straniere also hauled in three passes for 71 yards.
Wellsboro dominated the entire first half as they put up 21 points and held Cowanesque to negative eight yards of total offense. Cowanesque was able to avoid the shut out as they scored on a 56 yard run with just under 10 minutes to go in the game. With the win, Wellsboro improves to 2-1 on the season as they prepare to face the Athens Wildcats next Saturday. Kickoff is scheduled for 1:00 p.m.