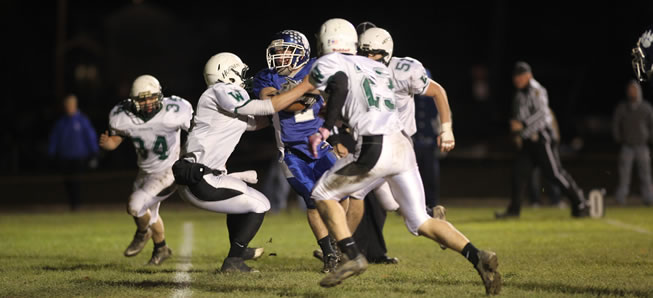 Special Teams doom Wellsboro
By: Ed Weaver / November 4, 2011
With the Morton F. Jones Trophy on the line, the North Penn Panthers used three special teams touchdowns to defeat Wellsboro, 42-6. The Panthers blocked a punt, blocked a field goal, and returned a punt for touchdowns to shut out Wellsboro 42-0 at halftime. North Penn's other three touchdowns came on a runs by Jason DeHaven, Marquis Delgado, and Logan Wise.
The Hornets were able to mount some offense in the second half and avoid being shut out Senior Running Back Thomas Johnston scored Wellsboro's only touchdown on a one yard run, but was denied on the following two-point conversion attempt. Johnston led all Hornet rushers with 64 yards on 21 attempts. Junior Quarterback Ben Shaw led the team in passing, going 15-24 for 140 yards.
With the loss, Wellsboro ends the 2011 season with a record of 4-6.