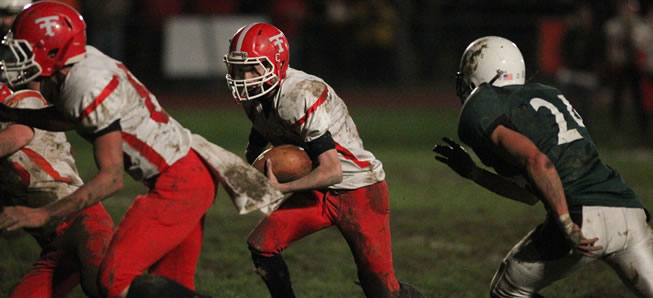 Trojans Spoil Hornets Homecoming
By: Ed Weaver / October 21, 2011
After two back-to-back wins in overtime the last two weeks, Wellsboro ran into a tough test tonight as they fell to Troy, 48-13. After holding the Trojans to a 3-and-out on their first drive, the Hornets went to the air on their opening play from scrimmage. Junior Quarterback Ben Shaw connected with Senior Running Back Thomas Johnston on a 46 yard pass to get down to the Troy 11-yard line. Johnston would need only two more plays to put the Hornets up 6-0 after the missed extra point.
After Wellsboro's opening score, Troy turned the press on and didn't look back. Troy went on the score six touchdowns in the half to take a 41-6 lead over Wellsboro at the half. Troy added another touchdown in the third quarter to go up 48-6 over the Hornets before Freshman Running Back Levi Mack scored his first Varsity touchdown to bring the final score to 48-13.
Johnston lead the Hornets ground attack as he gained 54 yards on 15 carries. Shaw lead Wellsboro's passing game, as he completed 4 of 16 passes for 70 yards. Freshman Michael Pietropola also completed a pass for 25 yards. Defensively, Chase Barnes and Johnston led the Hornets with five tackles.
With the loss, Wellsboro falls to 4-4 overall and 1-2 in the NTL Large School Division. The Hornets will be back in action next Friday night as they host the Towanda Black Knights. It will also be Senior Night. Game time is set for 7:00 p.m.