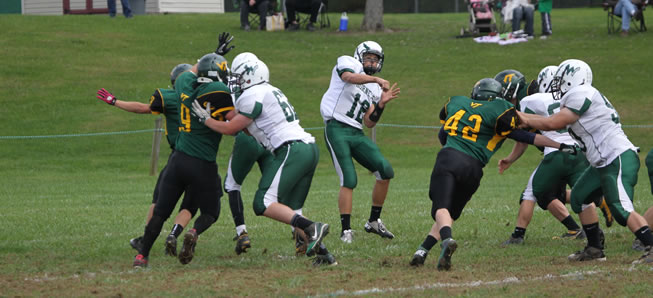 Athens overpowers Wellsboro football
By: Ed Weaver / October 6, 2012
The Athens Wildcats' offense was too much for the Wellsboro Hornes Friday night, as they won 40-0.
The Hornets hung around with Athens in the first quarter as they kept the Wildcats out of the end zone, but Athens was able to capitalize on turnovers in the second quarter. After an intercepting a pass from Sophomore Quarterback Michael Pietropola, the Wildcats were able to get into field goal range where Troy Stivason hit a 52 yard attempt to put Athens up 3-0.
Athens would score two more times, 1 touchdown (blocked extra point) and another field goal, to take a 12-0 lead over the Hornets at the half.
The Hornets could not get their offense going that put up nearly 500 yards on Columbia Montour Vo-Tech last week, and struggled in the second half to convert on third down. When all was said an done, the Wildcats were able to clinch the shut out victory and pick up an NTL Large School Division victory.
With the loss, the Hornets fall to 3-3 overall (1-2 NTL Large School). The team will be back in action next Friday as they travel to Montgomery for their final road contest of the year.