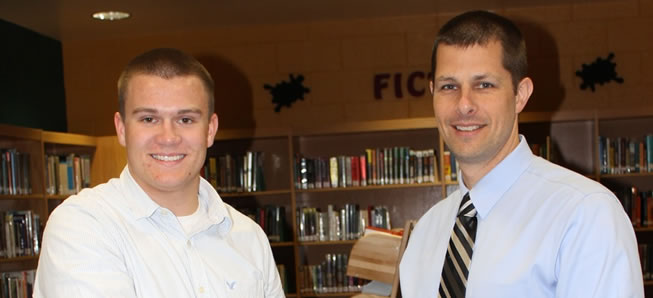 Barnes signs with Juniata
By: Ed Weaver / March 23, 2012
Senior Running Back Chase Barnes signed his letter of intent on Wednesday to play football at Juniata College in the fall. Barnes, a two-time captain and Coaches Award winner, is looking forward to getting his collegiate career started.
"I really enjoyed the while recruiting process. It was all very interesting," said Barnes. "It's exciting to know where I'm going to be playing next year."
In addition to Barnes' excitment about his signing, head coach Steve Boyce is equally excited for Chase.
"Chase is an unbelievable hard worker with a never quit attitude. What he may lack in some athletic ability he more than makes up for it by pushing himself harder than anyone else," said Boyce. "He will be sorely missed as he was our field general. He was the vocal captain that got everyone going, even in the low times. He's a smart kid that is driven to succeed in life. There is no doubt that he will attain every goal he sets for himself."
WellsboroFootball.com would like to congratualte Chase on his signing and wish him the best of luck at the collegiate level.