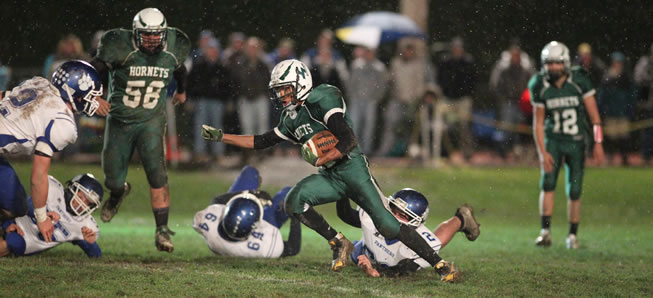 Brooks carries Hornets over North Penn
By: Ed Weaver / November 3, 2012
Junior Running Back Jermain Brooks rushed for 191 yards on 40 carries and 3 touchdowns to propel Wellsboro over North Penn, 24-13.
Brooks accounted for over half of the Hornets 312 yards of total offense and set a new Varsity Record* for most carries in a single game, beating Class of 2004 Fullback Brandon Keck's old record of 35. Tonight's win also snaps a 3-year losing streak against North Penn in the annual Morton F. Jones Trophy Game.
"It feels great to finally beat North Penn," said Sophomore Quarterback Michael Pietropola. "It was a great win, and a great way to send the seniors out with a win in their final game.
"They worked so hard this year and we really wanted to win this one for them," concluded Pietropola.
Senior Receivers Ben Shaw and Konnor Spencer echoed Pietropola's comments.
"It all came together for one time," said Shaw. "We've had four years of a lot of ups and downs, and I couldn't ask for it to end any better."
"I don't even know what to think right now, I'm just so pumped up," said Spencer. "I just can't believe it."
Both the Hornets and the Panthers swapped drives in the first quarter until the Brooks reached the end zone for the first time with five minutes remaining in the opening stanza, as he out ran the Panther defense for 15 yards. The Hornets would line up to attempt an extra point, but the snap was bad and Wellsboro took a 6-0 lead.
North Penn would battle back to tie the score at 6-6 as Ryan Bogaczyk scored from two yards out.
Wellsboro would reclaim the lead in the second quarter as Brooks scored from 1 yard out to put the Hornets up 12-6 going into the half.
North Penn would take the lead back in the third quarter after the forced Wellsboro to punt. Derrick Burd scored North Penn's final touchdown with 3:10 remaining in the third quarter to take a 13-12 lead.
From that moment on, it was all Wellsboro. Midway through the fourth quarter the Hornets had North Penn pinned inside their own 20-yard line and forced a punt. Senior Thomas Straniere busted through the middle on the attempt to block the kick and Junior Kyler Widows recovered the ball in the end zone for the touchdown to put the Hornets up for good.
The Hornets would add one more touchdown as Brooks completed the hat trick on the night on a four yard run to take the 24-13 victory.
Second year Head Coach Steve Boyce was impressed with the team's performance on the night.
"I'm really excited for the boys tonight," said Boyce. "They worked hard this season and had some ups and downs, but they never gave up."
Pietropola led the team through the air going 9-17 for 57 yards while Brooks led the team rushing. Junior Wyatt Covert added 12 yards on 4 carries, and Pietropola rushed for 51 yards on 11 attempts.
Ben Shaw was the team's leading receiver with 4 catches for 23 yards. Konnor Spencer chipped in 3 catches for 18 yards, Sophomore Kieron Smethers hauled in 1 pass for 11 yards, and Senior Tight End Dan Saniga caught 1 pass for 5 yards.
On the defensive side the Hornets held North Penn to 184 yards of total offense. Wyatt Covert led the team with 10 tackles and Saniga added 7. Pietropola intercepted a pass, and Shaw forced and recovered a fumble on the night.
With the win, the Hornets end the 2012 season with a record of 5-5 (2-3 NTL Large School Division).
* - Records may not be accurate to date due to incomplete stats. If you know of a record not currently listed on this page, or have game statistics or film from previous years, please contact us.