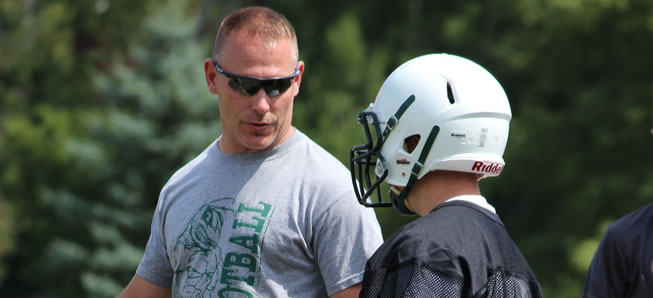 Coach Boyce steps down
By: Ed Weaver / December 4, 2012
On Friday, November 30, Steve Boyce resigned his duties as the head football coach at Wellsboro. In his two years leading the Hornets, Boyce had a 9-11 overall record (0.450) and was 3-7 (0.300) in the NTL Large School Division. His resignation comes after a 5-5 2012 season.
"I want to start by extending my deepest gratitude and thanks for all that each and every one of you, player and parent alike, have put into this program. I have truly enjoyed the last 4 years that I was once again a part of Wellsboro Football," said Boyce.
Boyce got his start in coaching in 1995 as a member of the Middle School staff before taking jobs at Reading and Cowanesque Valley before returning to Wellsboro in 2002 for a season. Boyce returned to the Hornets again in 2009 as the Defensive Coordinator, and would later resume the head coaching position in 2011.
"I was blessed with the chance to lead the team over the last 2 years where I tried to instill a passion for the game, a good work ethic, and self-discipline; all the things that I learned from my coaches at their age," stated Boyce.
In two short years Coach Boyce turned around a program that had won two games the previous two seasons combined and finished with the best overall record since the 2008 season under Chris Morral, where the Hornets finished 7-4. During his tenure, the Hornets defeated Wyalusing in back-to-back seasons for the first time since the 1980's, defeated Loyalsock, and won two tough, hard fought games in overtime (Wyalusing and Loyalsock). In 2012 the Hornets won the Morton F. Jones Trophy for the first time since 2008, with a 24-13 win over rival North Penn.
"In my eyes we were successful. Player issues in school and in the community were almost non-existent; players came to respect themselves and each other, and learned what being a team/family is all about. They faced adversity at many turns and learned to persevere in the face of fierce competition.
"Most importantly was our academic record where we didn't lose any varsity game time because of ineligibility and only 2 players at the JV level. Our players have come to be respected by the community at large as good, hard-working young men who are setting good examples for the younger students of our district," concluded Boyce.
WellsboroFootball.com would like to thank Coach Boyce for his hard work, dedication, and the countless hours he has spent over the course of the last few years coaching the Hornets to become not only good football players, but good men.