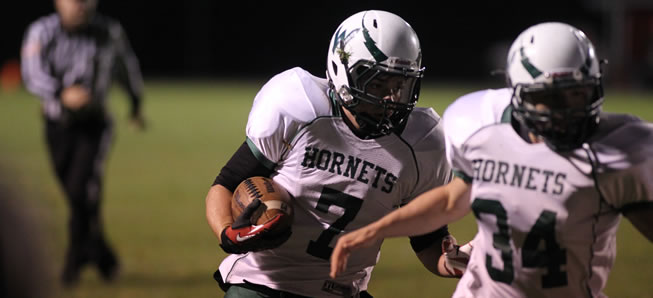 Hornets overpower Montgomery, improve to 4-3
By: Ed Weaver / October 13, 2012
The Wellsboro Varsity football squad accumulated 504 yards of total offense as they defeated Montgomery in their last road game of the year, 46-22.
The Hornets wasted little time as they scored just two mintues into the game as Senior Ben Shaw rushed from 7 yards out for his first of three rushing touchdowns on the evening. Shaw would covert the extra point to put the Hornets up 7-0. Five minutes later, Junior Fullback Wyatt Covert found the end zone from 9 yards out to put the Hornets up 13-0.
The Hornets would strike twice more in the first quarter. Junior Running Back Jermain Brooks scored on a 14 yard run to put Wellsboro ahead 19-0, and Sophomore Quarterback Michael Pietropola scored on a 51 yard run to give Wellsboro a 26-0 lead.
In the second quater, Sophomore Running Back Levi Mack raced 31 yards for a touchdown, and Shaw followed with his second rushing touchdown of the evening to put Wellsboro on top 40-8 at halftime. In the third quarter, Shaw scored his final touchdown of the night on a 5 yard run.
Montgomery was able to capitalize on field position after Wellsboro started subbing the JV team in, but the Hornets held on to pick up the non-league win.
Mack led all Hornets rushers with 11 carries for 108 yards. Pietropola went 9-16 for 167 yards through the air. Sophomore Reciever Kieron Smethers led the Hornet receivers with 2 catches for 65 yards, and Senior Thomas Straniere led the team with 9 tackles.
With the win, the Hornets improve to 4-3. The team will be back in action next Friday night as they host Sayre for Homecoming.