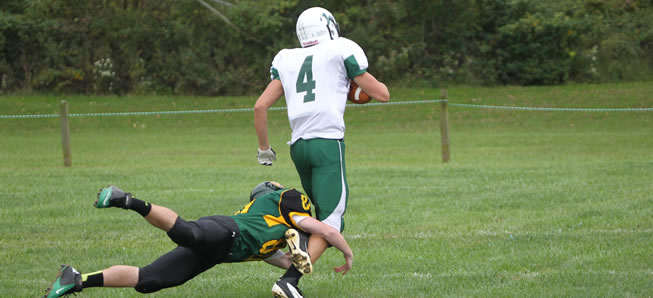 Hornets run wild against CMVT
By: Ed Weaver / September 29, 2012
The Wellsboro football team put up almost 500 yards of total offense of their way to a 44-6 thumping of CMVT this afternoon.
For the first time since the 1995 season, the Hornets traveled to Bloomsburg to take on the Columbia Montour Vo-Tech Rams, and like in '95, they came out the victor thanks to a run-heavy offensive attack. After holding CMVT to a punt on their first drive of the game, Sophomore Quarterback Michael Pietropola wasted little time getting the Hornets in scoring position as he found a wide open Konnor Spencer in the CMVT secondary. Spencer would take the ball down to the one-yard line before Junior Fullback Wyatt Covert punched the ball into the end zone to put the Hornets up 7-0.
Junior Running Back Jermain Brooks scored the Hornets' second touchdown of the afternoon on a 61 yard run. Senior Dan Saniga missed the extra point, but the Hornets led 13-0.
Pietropola would not let the running game score all of Wellsboro's points on the afternoon. On Wellsboro's third drive, he hit Senior Wide Receiver Ben Shaw for 58 yards to put the Hornets up 20-0. Later in the second quarter, Pietropola would find Saniga for a 20 yard pass to put the Hornets up 27-0.
Sophomore Kicker Jack Chambers would close out the scoring for the Hornets with a 27 yard field goal to take a 30-0 lead into halftime.
The Hornets started to play younger players in the second half. Sophomore Levi Mack saw his first action of the 2012 season this afternoon, and would score on a 5 yard run to put Wellsboro up 37-0. Later in the quarter, Brooks returned a punt 73 yards to paydirt to put the Hornets up 44-0. CMVT would eventually score to eliminate the shut out, giving the Hornets a 44-6 win.
Pietropola had his best day through the air this season as he went 6-7 for 231 yards and 2 touchdowns. Brooks led the Hornets in rushing with 12 carries for 158 yards and a touchdown. Spencer was the Hornets leading receiver with 2 catches for 84 yards.
"The defense played very well this afternoon," commented head coach Steve Boyce. "All 11 guys were flying around, having fun, and came at CMVT every play."
Next week the Hornets travel to Athens for an NTL Large School Division showdown.
"Athens is a tough group. They have athletes at every position," said Boyce. "We have to concentrate this week on getting better at what we do and try to keep them on their toes."
With the win, the Hornets improve to 3-2 overall (1-1 NTL Large) on the season.