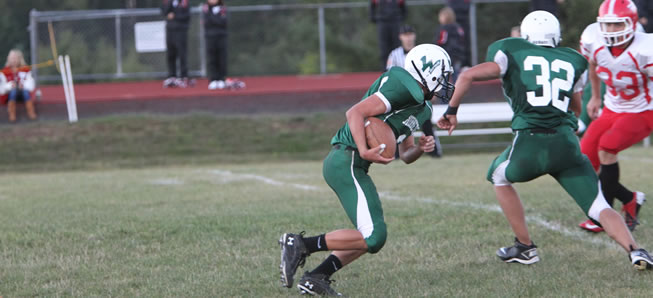 JV Football beats CV
By: Ed Weaver / September 19, 2012
The Wellsboro JV Football team picked up their first win of the season as they defeated CV 22-8 on Monday night.
Unlike the last two weeks where the Hornets' offense was dormant, the Hornets exploded early in the first quarter. After holding CV on a fourth-and-goal, the Hornets went to work on their first scoring drive of the season. Freshman Nicholas Tremper connected with Sophomore Nick Marple on a 70 yard touchdown pass and Freshman Anthony Cooper converted the two-point attempt to put the Hornets up 8-0.
The next Hornet touchdown came on Junior Blake Gamble's 60 yard interception return to put the Hornets up 14-0 at halftime.
The Indians got on the board in the third quarter with a interception return to set them up with 1st-and-goal. CV scored and later again on the two-point conversion attempt to bring the score to 14-8.
The Hornets added another touchdown in the fourth quarter with a short run by Cooper. The two-point conversion run by Cooper was good making the final score 22-8.
With the win, the JV team improves to 1-2 on the season. They will be back in action on Monday, September 24 as they travel to Canton.