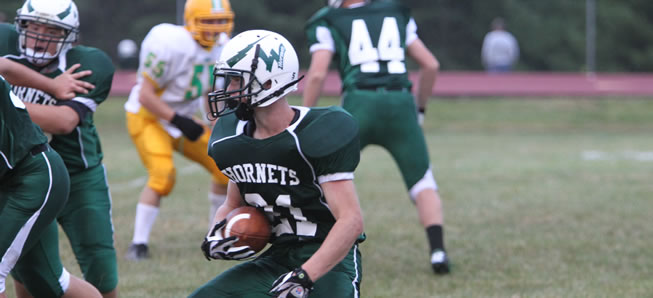 JV Football tops Athens, 40-36
By: Ed Weaver / October 8, 2012
The Wellsboro JV football team exploded for 40 points as they beat Athens tonight in Wellsboro, 40-36.
Sophomore Running Back Levi Mack led the Hornets ground attack as he scored three rushing touchdowns on the night. Not to be out done, Sophomore Quarterback Dylan Widows threw two touchdown passes to Sophomore Receiver Kieron Smethers. Tonight's game marked Smethers' first action of the season.
The Hornets' other score came on a 95 yard interception return by Freshman Anthony Cooper.
The Wellsboro Special Teams also played big in tonight's victory.
"Our Special Teams unit looked really sharp tonight," said coach Ben Miller. "The team performed well late in the game and kicker Jack Chambers stepped up for us tonight hitting 4 extra points."
With the win, the Hornets improve to 2-4 on the season. The team will be back in action in two weeks on Monday, October 22 as they travel to Sayre.