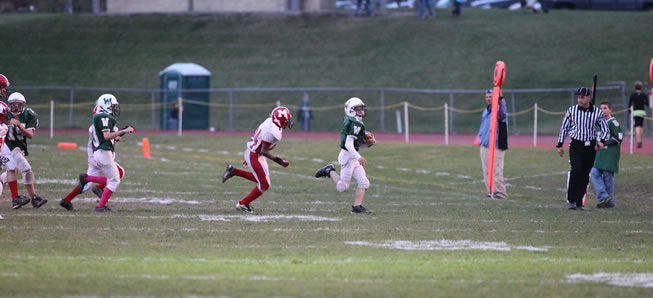 M.S. Football tops Montgomery on Thursday
By: Ed Weaver / October 20, 2012
The Wellsboro Middle School football team defeated Montgomery 39-6 on Thursday night in Wellsboro.
Cole Cavanaugh ran for 2 touchdowns, and Quinn Henry ran for two of his own to lead the offense for the Middle School Hornets. A stout defense provided good field position all day. The defensive line of Dominic Spencer, Kaleb Smith, Zach Kephart, Ethan Nichols and Parker Jones dominated the line of scrimmage.
Parker Jones recovered a fumbled punt to account for Wellsboro's other scoring on the day. Brandon Lamphier converted two two point conversions on receptions from Quinn Henry. Parker Jones had a rushing conversion. Collin Pietropola added the first extra point kick of the year for the Hornets.

With the win, the Hornets improve to 3-3 on the year. The team will be back in action next Thursday at 5:00 pm against Towanda at home.