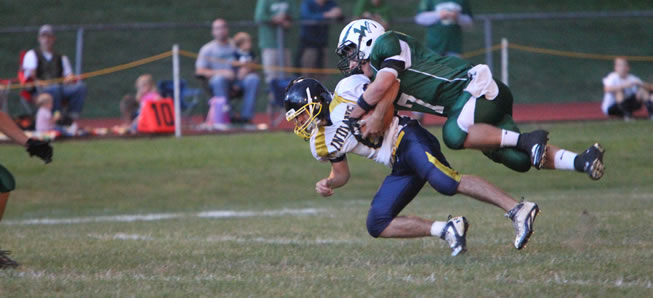 Turnovers doom Wellsboro against CV
By: Ed Weaver / September 15, 2012
For the first time since 1991, Cowanesque defeated Wellsboro thanks to four Hornet turnovers.
The Hornets had three lost fumbles and an interception in poor conditions that allowed Cowanesque to scored 18 points to clinch and 18-13 victory over Wellsboro.
Wellsboro started out strong as they held the Indians to two three-and-outs before Senior Dan Saniga returned a punt 79 yards to put the Hornets up 7-0 after Sophomore Jack Chambers connected on the extra point. The Hornets continued to play solid defense until a lightning delay forced both teams into the locker room.
Following the delay, Cowanesuqe capitalized on Wellsboro's turnovers and tooks control of the game. The Indians would scored twice in the second quarter; once on a Luke Plummer three yard run and against on a Brandon Whitsell 17 yard run with seven seconds remaining in the first half to take a 12-7 lead.
Cowanesque once again capitalized on a Wellsboro mistake midway through the third quarter to go up 18-7. The Hornets would bounce back, however, as Sophomore Quarterback Michael Pietropola connected with Senior Receiver Konnor Spencer on a 13 yard touchdown.
Following the touchdown, the Hornets attempted an onsides kick but CV would recover. On the last play of the game, the Hornets still had a shot as Junior Linebacker Brian Doty forced a fumble and returned the football to the end zone only to find out the runner's forward progress was stopped.
Pietropola led the team in passing as he went 4-15 for 48 yards, 1 touchdown, and 1 interception. He also was the leading rusher as he gained 66 yards on 15 carries. Junior Jermain Brooks was the leading receiver as he hauled in two passes for 24 yards.
With the loss, the Hornets fall to 1-2 overall (1-1 NTL Large Division). The team will be back in action next Friday night as they host the Canton Warriors.