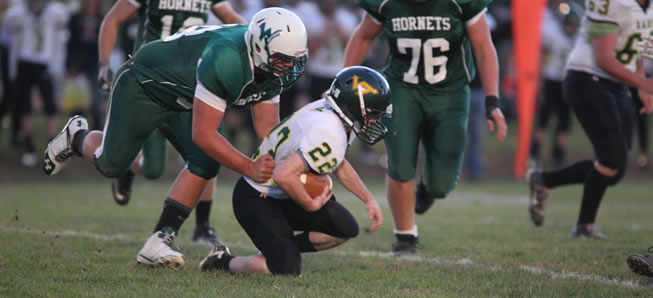 Doty, Owlett, and Pietropola selected to All-State football team
By: Ed Weaver / December 20, 2013
Seniors Brian Doty and Brandon Owlett and Junior Michael Pietropola earned Class A All-State football honors from the AP sportswriters on Thursday afternoon. Doty was selected at linebacker, Owlett at receiver, and Pietropola at quarterback.
The Hornets had an incredible 2013 season, as they finished the regular season with a perfect 10-0 record with wins over Athens and Towanda, two teams that the Green Hornets failed to beat in over a decade, and rival North Penn and keeping the Morton F. Jones Trophy in Wellsboro for the second year in a row.
"It's great for our program," first year head coach Matt Hildebrand said. "It's great recognition, but its' even better for these guys. They put in a lot of work to get to this point."
Just four short years ago, the team was 1-9 and going through change. After two rebuilding years with a 4-6 and 5-5 finishes, the Hornets recorded their first true undefeated season and ended the season with a District IV Class A playoff appearance.
Doty was a freshman on that team, and despite the struggles, he stuck with the program.
"Brian has played for three different head coaches in 4 years," Hildebrand said. "He's been around when we were 1-9 when he started as a freshman and to finish this year 10-0 and end up on a state team is special. It shows the perseverance of him. A lot of those kids from four years ago aren't here anymore. He could have said I'm not going to do this anymore, but he stayed and worked hard."
"First of all this couldn't be possible with out the help of my teammates and coaches," Doty said. "I'm very honored to be apart of the such a great team and fortune enough to be able to play this game I love."
For Owlett, 2013 was his first year of playing football at the Varsity level. but you wouldn't know that from watching him play. Owlett had a season for the ages, becomming the first Hornet receiver to break 1,000 yards in a single season and catching 17 touchdown passes, both Wellsboro Football Varsity Records*.
"Brandon is just a true athlete," Hildebrand said. "I think this year opened up his eyes to a lot of things as well as a lot of other peoples eyes with his abilities to football and his future as far as playing football. Anywhere Brandon goes in college will be very lucky. Brandon is very raw just playing one year of varsity football and he got better every game."
"It's just a huge honor to be part of such a successful and hard working team," Owlett said. "None of this would have been possible without everyone. So I just want to thank everyone from our offensive line to our coaches who worked so hard this year. They were a huge factor in this honor."
Pietropola, also had a very successful season, becomming the first Hornet quarterback to throw for over 2,000 yards in a season. Pietropola also set records with 405 passing yards in a game, 6 touchdown passes in a game, and 39 for a single-season.
"Without the team, the lineman, the receivers, and especially the coaches, this wouldn't be possible," Pietropola said. "I just want to thank everyone that got me to this position. It is truly amazing to be able to be named as an all state QB. I am ranked with a top group of guys and that is special. I am truly honored and blessed."
"Michael put in endless amount of hours going to camps and working throughout the summer," Hildebrand said. "He was a great leader throughout the year. He knew we needed more players and he went out and got guys like Brandon to come out. Michael is the hardest worker we have on the team."
Now the Hornets enter the off-season to get ready for the 2014 season. As one of the returning players Pietropola plans to get right back to work and while there will be pressure he is ready for it.
"Just because you had a good year does not mean anything," Pietropola said. "You have to continue to work hard. I would say there is some pressure, but you can't let the pressure get to you, you have to stay mentally strong."
"There are definitely high expectations as we go into the 2014 season," Hildebrand said. "Everyone is always looking to take out Wellsboro. It doesn't matter if we are 1-9 or 10-1, everyone is always gunning for us."
WellsboroFootball.com would like to congratulate Brian, Brandon, and Michael on the selections and thank them for all their hard work during the season.
* - Records may not be accurate to date due to incomplete stats. If you know of a record not currently listed on this site, or have game statistics or film from previous years, please contact us.