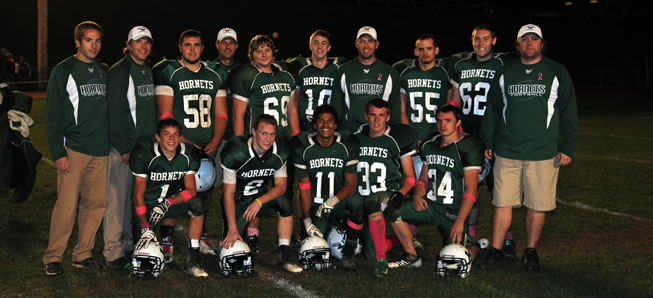 Hornets roll over Montgomery on Senior Night
By: Ed Weaver / October 12, 2013
The Wellsboro Hornets put up 56 points in the first half and nearly 400 yards of total offense en route to a 64-13 blow out on Senior Night against Montgomery.
The undefeated Hornets wasted little time scoring as the defense held Montgomery to a three-and-out. After getting the ball off a punt, Junior Michael Pietropola connected with fellow Junior Kieron Smethers for a 71 yard touchdown just two minutes into the game. Pietropola's touchdown was the first of six he would throw on the night, setting a new Wellsboro Football Record* and breaking his previous mark of five touchdown passes in a game.
Four minutes later, the Wellsboro defense got on the scoreboard when Smethers returned a blocked punt attempt 25 yards to put the Hornets up 13-0 after an extra point attempt by Junior Jack Chambers was blocked.
The Hornets closed out the first quarter when Pietropola found Senior Brandon Owlett wide open for a 46 yard gain to go up 20-0.
In the second quarter, the Hornets scored five times, the first coming on a pass from Pietropola to Senior Dylan Prough for 19 yards, followed by a 30 yard pass to Owlett, a 42 yard pass to Prough, a 27 yard fumble return by Junior Nick Marple, and a 23 yard run by Senior Jermain Brooks to put the Hornets up 56-0.
Pietropola threw his final touchdown pass of the night at 8:56 remaining in the third quarter to Owlett, his third of the night, to put the Hornets up 64-0. That touchdown, the 28th of Pietropola's season, pass broke the area's passing touchdown record. The old record was 27 passing touchdowns done by Hughesville's Jon Fritz set back in 1992.
Pietropola has now thrown for 1,830 yards and 28 touchdowns on the year, while Owlett has caught 13 touchdowns and racked up 756 yards.
Montgomery would end up scoring twice on Wellsboro's J.V. defense to bring the final score to 64-13.
Pietropola went 9-12 through the air for 345 yards and 6 touchdowns. Brooks led the Hornets ground attack with 30 yards on 9 carries, and Owlett was the leading receiver with 112 yards on three catches, all touchdowns.
First year head coach Matt Hildebrand was very pleased with his team's performance on the night.
"Things are rolling pretty well right now," Hildebrand commented. "We have a lot of momentum and the kids are playing great. They've put in a lot of work so far this season and they deserve it."
With the win, the Hornets are off to a 7-0 start. The last time Wellsboro has finished above .500 was the 2008 season, when the Hornets finished 7-4 and reached the District IV Class AA playoffs under former head coach Chris Morral. Prior to that, Wellsboro's last two winning seasons were 1996 when the Hornets went 6-3 and 1995 when they finished 9-2 under Russ Manney.
"We have a lot of guys that live and breath football on this year's squad. Football is their passion, it's all they're thinking about, and they put a lot of hours in the summer and it's showing right now on the field," Hildebrand continued.
The Hornets have three games remaining on the schedule, all on the road against Sayre, Towanda, and rival North Penn.
With the win, the Hornets sit on top of the NTL Division 1 standings at 7-0 (3-0 NTL Division 1). The team will be back in action next Friday night as they travel to Sayre (3-4, 2-1 NTL Division 2).
* - Records may not be accurate to date due to incomplete stats. If you know of a record not currently listed on this page, or have game statistics or film from previous years, please contact us.