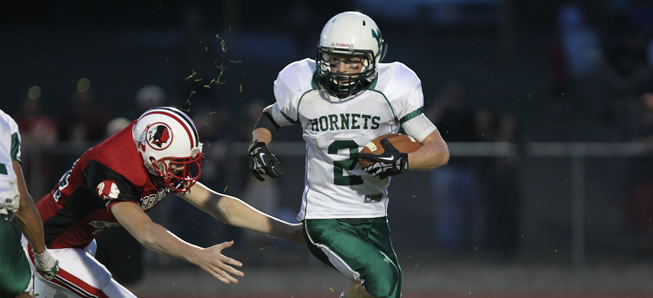 Hornets turn out the lights on Canton
By: Ed Weaver / September 21, 2013
The Wellsboro Varsity football team ruined a special night for the Canton Warriors on Friday night. For the first time in school history, Canton played a night game on their home field.
What was supposed to be a special night for Canton was another game to the Hornets, as they kept their perfect season going with a 56-7 victory over the hosts.
Canton got on the board first, using a 17-play (16 runs) drive that chewed up most of the first quarter to go on top 7-0. The Hornets, however, wasted little time as Junior Quarterback Michael Pietropola found Senior Receiver Brandon Owlett for a 79 yard scored to tie the game up at 7-7 following an extra point by Junior Jack Chambers.
From that moment on, the game was all Wellsboro.
Wellsboro struck again at the 1:20 mark in the first quarter to go up 14-0 as Pietropola hit Senior Running Back Jermain Brooks for a 40 yard score. The Hornet defense was responsible for the next touchdown, as Junior Kieron Smethers intercepted a screen pass and took it 37 yards to the end zone to put the Hornets up 21-7 with 9:03 remaining in the first half.
Pietropola went on to throw two more touchdown passes in the 2nd quarter. The first was a 43 yard pass to Owlett and the second was a 62 yard strike to Senior Receiver Dylan Prough. Senior Wyatt Covert closed out the half with a four yard dash into the end zone to put the Hornets up 42-7 at halftime.
The Hornets went back to work in the second half as Owlett returned the opening kickoff 85 yards to put the Hornets up 49-7. Covert found the end zone a second time on a 52 yard scramble to make the final 56-7.
Pietropola completed 6 of 7 passes for 246 yards and 4 touchdowns on the night to bring his season total to 910 yards and 14 touchdowns. Covert led the team's ground attack with 5 rushes for 68 yards and 2 touchdowns, while Owlett was the top receiver with 3 catches for 127 yards and 2 touchdowns. Defensively, Senior Brian Doty recorded 16 tackles.
"We really didn't change up much of our offensive game plan," said Owlett. "We just came out and executed well."
"It was actaully hard to prepare for them (Canton) because they ran so many diferent plays and sets the past 3 games," Prough said. "After that first drive we made adjustments and played solid team defense."
Head coach Matt Hildebrand was very pleased with his team's performance.
"We knew there was a lot going on with the first night game, we just tried to prepare like we do every week," Hildebrand said. "We knew we were going to be a part of history one way or another and we didn't want it to go down in a negative way for us."
Hildebrand also noted the play of Prough and Owlett, who are back to football for the first time since Middle School.
"Those guys are both are just natural athletes and it really doesn't require too much coaching. I'd like to take credit for that but those are so well-rounded that when you do give them pointers they go out and execute like you want them to."
The last time the Hornets started a season 4-0 was in 1996 under former head coach Russ Manney and led by 1,000-yard rusher Matt Kennedy.
With the win, the Hornets are now 4-0 (2-0 NTL Division 1). The team will be back in action next Friday as they host CMVT for Homecoming.