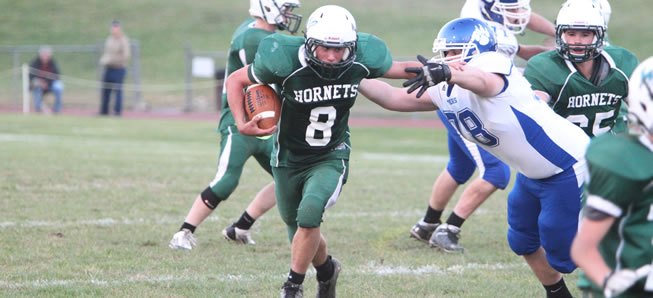 J.V. football tops Athens
By: Ed Weaver / October 8, 2013
The Wellsboro J.V. football team picked up a road win Monday night at Athens, beating the Wildcats 40-24.
Athens opened up the scoring with a long touchdown run but Wellsboro answered right back with a 70 yard pass from Sophomore Anthony Cooper to Junior Dylan Widows. The two-point conversion was no good to tie the game at 6-6. Athens would go back up 12-6 on another long run but Wellsboro answered again as Widows caught another touchdown from Cooper and a run by Sophomore Nick Tremper to go up 24-12.
The Hornets would maintain the lead from there with touchdowns from Cooper to Frshman Brandon Lamphier, a rushing touchdwon from Cooper, and another rushing touchdown from Tremper.
With the win, the team improves to 3-2 on the year with their next game on Monday, October 21 against Sayre.