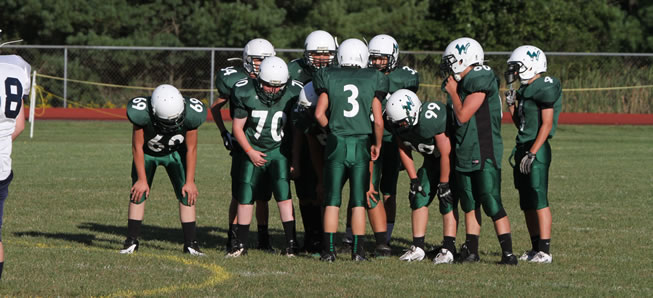 M.S. football beats Canton
By: Ed Weaver / September 27, 2013
The Wellsboro Middle School football team faced some adversity for the first time this season.
Mental errors costs the Hornets field position and possession of the football in the first half. The Hornets drives were stalled by penalties and turnovers. Chase Moser had two touchdown runs called back for holding and block in the back penalties. The defense held on strong throughout the first half, making the score 0-0 at half time.
The second half was a different story, as 8th grade running back Alex Kozuhowski stepped up and scored two touchdowns running the ball. Cole Cavanaugh added another score for the Hornets. Two point conversions were both attributed to Chase Moser, one on a QB run, and the other on a pass to Caleb Tennis making the final score 22-0.
The win brings the Middle School Hornets to 3-0 going into their rivalry game against North Penn next Thursday, October 3 at 5:00 p.m. at home.