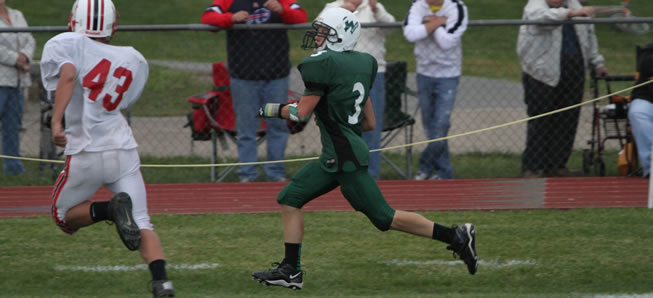 M.S. football tops Montgomery to stay undefeated
By: Ed Weaver / October 18, 2013
The Middle School Football took their 5-0 record into Montgomery on Thursday, the 17th on the Red Raiders and came home with a 35-12 victory.
Cole Cavanaugh opened up the scoring on the Hornet's second play from scrimmage as he received a pass from quarterback Quinn Henry for the strike. The conversion attempt failed to make it 6-0 Hornets. The Hornets defense would hold in the ensuing possession. Chase Moser would carry the ball for the second score of the night. A pass from Henry to Dalton Prough would be successful, making the score 14-0 Hornets.
Kody Rice would score next for the Hornets with a rushing touchdown. The conversion would fail, making it 20-0 Wellsboro. Moser would add another rushing score for Wellsboro, making the score 27-0 at halftime.
Wellsboro came out in the second half and scored on a Cole Cavanaugh punt return. Henry kept the two-point conversion himself, making the score 35-0. Montgomery would score two touchdowns through the end of the third and fourth quarter to make the final score 35-12.
The Hornets move to 6-0 on the season and have their final home game next Thursday, October 24 against Cowanesque Valley.