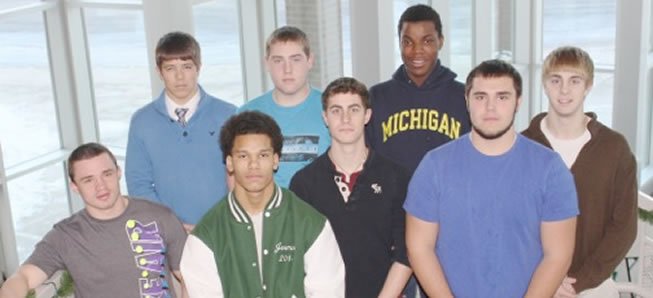 Pietropola named All-Region football Player of the Year
By: Ed Weaver / December 26, 2013
Junior Quarterback Michael Pietropola was just named All-Region Player of the Year by the Towanda Daily Review.
Pietropola had the best season at quarterback in Wellsboro Football History, throwing for 2,755 yards and 39 touchdowns and setting nine varsity records*. In addition to these records Pietropola was also named to the All-State football team at quarterback, and is a first time quarterback selection on the All-Region team.
Joining Pietropola on the first team are Senior Brandon Owlett (reciever), Junior Kieron Smethers (defensive line), Senior Brian Doty (linebacker), and Senior Wyatt Covert (athlete).
On the second team are Senior Dylan Prough (receiver) and Senior Jermain Brooks (defensive back), and Senior Blake Gamble (offensive line) and Junior Jack Chambers (kicker) are on the third team.
WellsboroFootball.com would like to congratulate these young men on their accomplishments, and thank them for all their hard work and dedication throughout the season.
View the complete 2013 All-Region football team selections.
* - Records may not be accurate to date due to incomplete stats. If you know of a record not currently listed on this website, or have game statistics or film from previous years, please contact us.