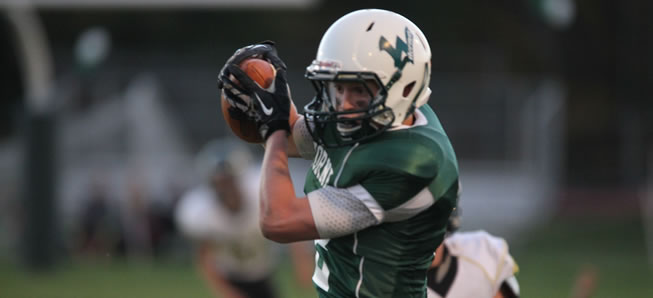 Pietropola, Owlett lead Hornets to Homecoming victory
By: Ed Weaver / September 28, 2013
Junior Quarterback Michael Pietropola connected with Senior Brandon Owlett three times in the first quarter to lead the Hornets to a 48-0 win over CMVT.
The victory was Wellsboro's first Homecoming win since 2007.
After holding the Rams to a three-and-out, Pietropola wasted little time getting the Hornets on the scoreboard. In fact, it took only two plays before Owlett caught a 72-yard bomb with 9:10 remaining in the first quarter to put the Hornets up 7-0 following an extra point by Junior Jack Chambers.
The Hornets got the ball back just a handful of minutes later, and found themselves inside the red zone after a 21-yard run by Junior Levi Mack. Again, Pietropola found Owlett, this time for 15 yards for their second touchdown of the night.
Four plays later, the Hornets had the ball again. Owlett and Pietropola connected again when Owlett caught a deflected pass for a 78 yard touchdown to put the Hornets up 21-0. The Hornets would score once more in the first quarter to bring the lead to 28-0 on a 50-yard run by Mack.
In the second quarter, Senior Running Back Wyatt Covert scored from 13 yards out to put the lead at 34-0. Owlett scored his fourth touchdown of the night two minutes later as returned a punt 62 yards.
The Hornets would add their final touchdown in the third quarter when Jermain Brooks scampered 97 yards.
Pietropola went 4-6 passing for 170 yards and three touchdowns, pushing him over the 1,000-yard mark and 17 touchdowns. Brooks led the ground attack with 92 yards on only 2 carries and Owlett caught three passes for 165 yards.
Chambers went 6-7 on extra point attempts to place him at 29-31 for the year. Senior Brian Doty led a tough Hornet defense, who gave up on 16 yards on the night, with 8 tackles.
With the win, the Hornets improve to 5-0 (2-0 NTL Division 1). The team will be back in action next Friday as they host Athens.