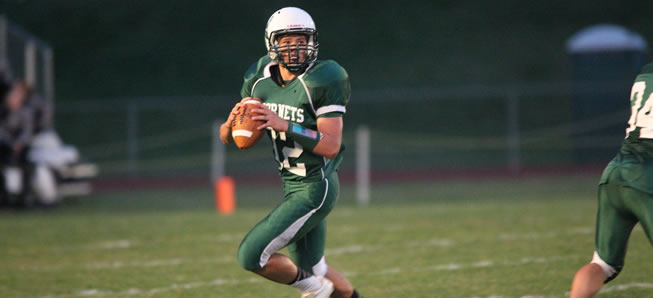 Pietropola passes Hornets past Athens
By: Ed Weaver / October 5, 2013
The Wellsboro Varsity football team did something Friday night they haven't done in 12 years.
That feat was beating the Athens Wildcats. The last time the Hornets beat Athens was 2001 when school rushing holder Derek Harsch rumbled for 334 yards and 4 scores to win 26-13. Prior to Friday, Athens has outscored Wellsboro 443-46.
The Hornets wasted little time as Junior Quarterback Michael Pietropola found Senior Receiver Brandon Owlett for a 62 yard score with 10:54 remaining in the first quarter. That score was the first of 5 touchdowns passes Pietropola would throw, which is a new Wellsboro Football Record*.
Pietropola threw for his second touchdown pass with 8:19 left in the first quarter when he connected with Senior Running Back Jermain Brooks for a 67 yard score. The Hornets closed out the first quarter with another touchdown, this time to Senior Receiver Dylan Prough on a 65 yard strike with 3:06 to put the Hornets up 21-0.
Pietropola and the offense picked up where they left off in the first quarter as he threw two more touchdowns to Brooks to put the Hornets up 35-0 with 5:39 left in the half. Brooks added his first rushing touchdown of the night with a 25 yard scamper with 3:08 left to go up 42-0.
The Hornets would add 10 more points in the third quarter, starting with Junior Jack Chambers connecting on a 24 yard field goal and Brooks rushing for 44 more yards to put the team up 52-0.
Athens would add two touchdowns of their own, one coming on a 78 yard pass from Aaron Barry to Cody Cain and the Wildcat defense recovering a fumble in the end zone to bring the final to 52-14.
Pietropola went 12-19 for 405 yards and 5 touchdowns (both records) through the air, while Brooks carried the ball 9 times for 112 yards and two scores. Brooks was also the leading receiver with 127 yards and three touchdowns.
Pietropola has now passed for 1,485 yards and 22 touchdowns on the year.
Owlett caught 4 passes for 105 yards, Prough had 2 catches for 83, Junior Kieron Smethers caught 3 balls for 90 yards, and Junior Dylan Widows caught one pass for 28.
Head coach Matt Hildebrand was very please with his team's performance on the night.
"We had some motivation going into tonight with knowing we haven't beat Athens in the last 12 years. We did a very nice job spreading the football around to all of our backs and receivers which makes it very hard for defenses to defend against in the next few weeks."
Hildebrand, a former quarterback at Mansfield University, was also very pleased with his own quarterback play in Pietropola.
"This is the first game in a while that he's actually played into the third quarter," Hildebrand stated. "Michael's worked really hard in practice and over the summer to get where he's at and right now it's paying off."
"We played tough tonight," Pietropola said. "Athens played hard every snap but we had the motivation after them taking it to us for all those years."
The quarterback knows, however, that one man can't do it alone.
"It starts with the offensive line," Pietropola said. "Senior Blake Gamble, Junior Nick Levindoski, Senior Brian Doty, Senior Kyler Widows, and Sophomore Owen Covert. They've worked hard all season and without them we wouldn't be achieving what we are."
With the win, the Hornets are 6-0 with a Senior Night matchup with Montgomery coming up next week. The last time Wellsboro was 6-0 was back in the 1996 season.
"We're going to continue to work hard in practice this week. We can't take teams lightly," the signal caller concluded.
"Right now we're firing on all cylinders and just need to keep it that way," Hildebrand concluded.
* - Records may not be accurate to date due to incomplete stats. If you know of a record not currently listed on this page, or have game statistics or film from previous years, please contact us.