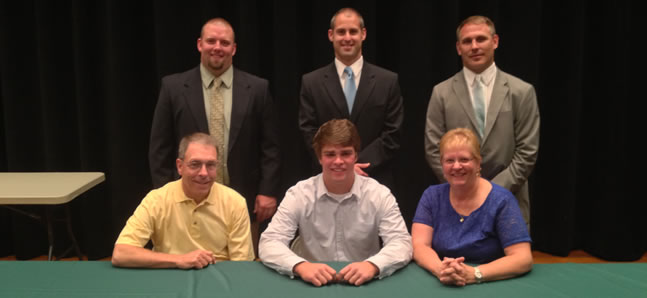 Shaw to play football, baseball at Wheaton
By: Ed Weaver / June 11, 2013
Senior Ben Shaw will follow in his brother Tim Shaw's footsteps and attend Wheaton College in Illinois. Shaw will be playing both football and baseball for the Division III school.
"When I visited in February I very quickly realized that Wheaton was a much different atmosphere and environment then most schools. After spending time their and seeing the quality guys that made up the team I was completely sold," Shaw said.
"The winning environment was definitely evident as well which was a big component of what I was looking for. The football and baseball teams both truly seemed to practice what they preached which is that they are going to establish themselves as being men of faith before anything else in their lives.
"This type of commitment was probably the most attractive and unique feature about what Wheaton had to offer. Even after my first few short phone calls with staff members I realized that these were men that I would always be able to respect and regard with the highest dignity," Shaw concluded.
"Ben will be a dual sport athlete at Wheaton, playing football and baseball. That's an accomplishment in and of itself! I can't speak to his football talents, but I think Ben will be an immediate impact player for their baseball team," said baseball head coach Philip Prough. "Ben has one of the easiest, smoothest swings that has come through the Wellsboro program. He has developed his defensive skills and game calling as a catcher too. Having both a solid offensive and defensive skill set, I believe Ben will be one of Wheaton's top players with a short period of time.
"But what is more likely to give Ben success is his grounded beliefs. Ben is a high-character guy. Those qualities make him a better person than he is a player and Wheaton will be thankful to have a player with those off-the-field qualities. Ben was part of a Wellsboro team that set the bar higher for future teams. I would be surprised if he doesn't do the same at Wheaton. If he's following his brother's footsteps, his brother will want to check his back. Because Ben doesn't have the same stride! It won't take Ben long to catch - or surpass - him! " Prough concluded.
WellsboroFootball.com and WellsboroAthletics.com would like to congratulate Ben on his signing, and wish him the best of luck during his collegiate career.