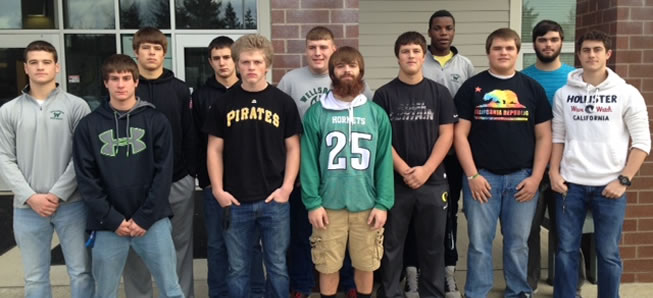 Hornets selected to NTL All-Star football team
By: Ed Weaver / November 26, 2014
Senior Quarterback Michael Pietropola was named Co-Offensive Player of the Year as 12 Hornets were selected to the NTL All-Star football team on Monday, November 24.
Senior Nick Marple's career year earned him first team selections at both receiver and cornerback, Pietropola earned a first team selection at free safety, Senior Michael Brostrom was a first team defensive tackle, and Senior Kieron Smethers was a first team defensive end.
The second team includes Pietropola at quarterback, Senior Levi Mack at running back, Smethers at receiver, Junior Owen Covert at offensive tackle, Senior Jack Chambers at kicker, Senior Ben Davis at defensive tackle, and Junior Nick Tremper at outside linebacker.
Freshman Collin Pietropola earned an honorable mention at center, Senior Nick Levindoski was an honorable mention inside linebacker, Mack was an honorable mention outside linebacker, Junior Anthony Cooper was an honorable mention at strong safety, and Smethers was an honorable mention punter.
WellsboroFootball.com would like to congratulate these young men on their selections, and thank them for all their hard work and dedication during the year.
View the complete 2014 NTL All-Star football team.