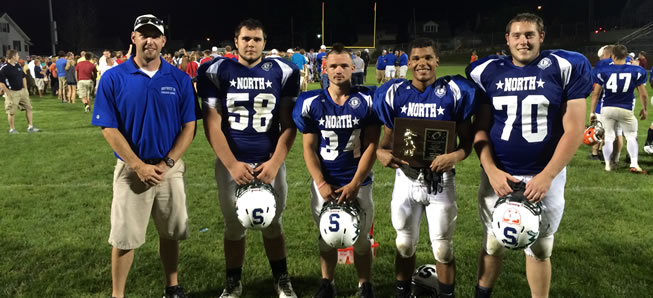 Brooks, Covert, Doty and Gamble end career at All-Star game
By: Ed Weaver / June 28, 2014
Seniors Jermain Brooks, Wyatt Covert, Brian Doty, and Blake Gamble finished their high school football careers at the 24th annual District IV North-South All-Star football game Friday night.
The four Wellsboro seniors saw plenty of playing time in the game, but were unable to defeat the South squad, despite scoring on the game's opening drive. The South would win the contest, 34-12.
Despite the game's outcome, each of the players and head coach Matt Hildbrand, an assistant on the North squad, all had a good final week of football for the 2013 season.
"The week was really tough because we practiced for almost four hours each night," said Gamble. "The plays weren't really all that bad and tonight was really rewarding and I had a blast doing it.
"It was great playing my final game with the guys," continued Gamble. "Being on the same line as Brian and having Wyatt and linebacker and Jermain running it was a great time."
"At first the week was kind of awkward in getting to know everybody and the plays, but overall it was pretty good," Brooks said.
For Brooks, Friday was his final football game under the lights.
"It was a beautiful moment and I just embraced it. I think we all did. It was just a great experience and was a lot of fun playing with really competitive people."
"It was sad playing my last high school game tonight but it was definitely worth it," Doty said.
For Hildebrand, he was the lone coach from the NTL as the staff was composed of coaches from Jersey Shore and Muncy.
"It was a long, but good week as we practiced in Jersey Shore, Canton, and South Williamsport," Hildebrand said. "It was, however, a good week for our guys as they attended every practice throughout the week. These four are definitely deserving of the honor of playing in the game tonight.
"These four guys have really helped turn our program around. From having a one win season when they were freshmen to a 10 win season this year, the reason is because of these kids. Their work ethic got them to this point. They are great representatives for the program, the community and I think they did a great job representing Wellsboro tonight."
WellsboroFootball.com would like to congratulate Coach Hildebrand, Jermain, Wyatt, Blake, and Jermain for a great end to the season.