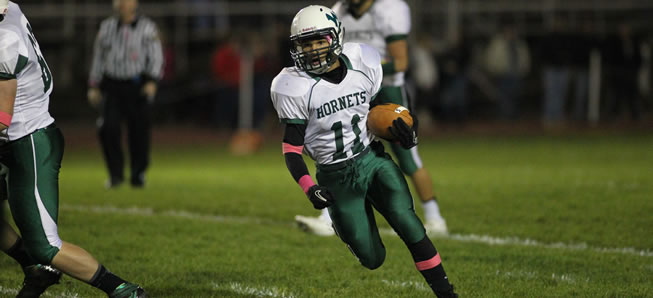 Brooks, Owlett, Doty headline Wellsboro's District IV football All-Stars
By: Ed Weaver / January 18, 2014
Seniors Jermain Brooks, Brandon Owlett, and Brian Doty were all selected to the District IV football all-star first team recently.
In addition to the three first team selections the Hornets also had three second team selections and eight honorable mentions.
Senior Wyatt Covert (outside linebacker), Doty (center), and Senior Blake Gamble (offensive tackle) were all second team selections, while Junior Michael Pietropola (quarterback), Covert (fullback), Senior Dylan Prough (receiver and defensive end), Junior Jack Chambers (kicker), Junior Kieron Smethers (defensive end), Brooks (strong safety), and Junior Nick Marple (cornerback) were the honorable mentions.
WellsboroFootball.com would like to congratulate these young men on their District IV all-star selections, and thank them for all their hard work and dedication during the 2013 season.