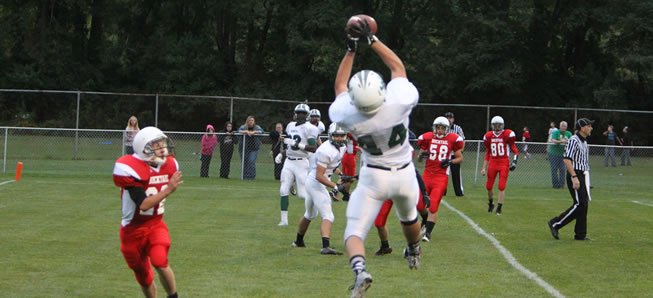 Hornet Football downs Bucktail, 71-6
By: Ed Weaver / September 13, 2014
The Wellsboro Varsity Football team scored 71 points, the most they have scored since beating CMVT 70-0 in 1995, as they defeated Bucktail on Friday, September 12.
The Hornets scored early and often. Their first score came at 9:15 in the first quarter after the Hornet defense stopped the Bucks on fourth down. Two plays later, Senior Quaterback Michael Pietropola found Senior Nick Levindoski wide open in the end zone for a three yard score after connecting on a 63 yard pass to Senior Nick Marple one play earlier. Senior Jack Chambers' kick was good and the Hornets were on top, 7-0.
Three minutes later, Pietropola connected with Senior Receiver Kieron Smethers for a 10 yard strike to put Wellsboro up 14-0 following Chambers second extra point of the night. Smethers would score less than 20 seconds later as he sacked Bucktail's Keifer Masson, stripped the ball, and raced 15 yards to the end zone to put Wellsboro up 21-0. The Hornets would extend their lead to 23-0 two minutes later as Junior Anthony Cooper tackled Aaron Ransdorf in the end zone for a safety.
After the free kick, Senior Levi Mack got in on the action as he scampered 44 yards to put the Hornets up 30-0 with 3:31 left in the first quarter. Wellsboro scored once more in the quarter as Pietropola connected with Smethers for a 48 yard score go up 37-0.
Wellsboro wasted little time scoring in the second quarter. After runs of 33 and 3 yards by Levindoski and a 14 yard pass to Cooper, Mack scored from 10 yards out to put the Hornets up 44-0 with just over 10 minutes remaining in the first half.
The Hornets didn't score again until after their previous drive stalled on a Mack fumble. This time, Pietropola connected with Marple on an 80 yard bomb to put the Hornets up 51-0. Wellsboro would score once more in the first half as Levindoski punched the ball in from one yard out to go up 57-0 to close the half.
The second half saw many of Wellsboro's JV players get reps. Following a 62 yard run by Ransdorf to prevent the shut out, Sophomore Quarterback Brandon Lamphier called his own number on the option and raced 24 yards for a touchdown to go up 64-6. Lamphier scored once more, this time from 50 yards out, to make the final score 71-6, Wellsboro.
"I'm happy that we executed well tonight in the fact that we didn't make the mistakes that we had the first two weeks and cleaned up a lot of the things we've been working on in practice," said head coach Matt Hildebrand.
Wellsboro allowed their first points on the 2014 season, coming off a couple of missed tackles but Hildebrand was still impressed with how the team played.
"Our defense has been a staple for us all year," the head ball coach said. "Our starters have yet to give up a score and gave up few, if any, yards tonight."
In the first half the Hornets held Bucktail to -47 yards of total offense. Bucktail would move into the positive side in the second half as they finished with 43 yards of offense for the game.
Pietropola had another solid night as he completed 8-9 passes for 234 yards and four touchdowns. Pietropola has now thrown for over 200 yards in his last five games dating back to North Penn in 2013.
"The offense was very powerful tonight," Pietropola said. "Bucktail played a pretty good game defensively. They flew around and made some plays but our offensive line pushed hard all night. Levi ran the ball hard and the receivers made a lot of stellar catches so it was just an all-around good effort."
Marple also continued his streak of 100+ yard receiving games as his two catches totaled 143 yards. Smethers caught three passes for 67 yards.
Mack was the leading ball carrier on the night as he rushed 7 times for 88 yards. Lamphier totaled 74 yards on his only two carries.
With the win, Wellsboro improves to 3-0 on the year and will get ready for Sayre at home in week four.
"Each week we tell the kids that we have to keep improving and get better every week," Hildebrand continued. "It doesn't matter who we play, just as long as we get better. We'll break down the film this weekend to see what we did good and what we need to work on and see what Sayre has."
"Next week should definitely be a good game against Sayre," continued Pietropola. "They're a good team and we need to continue to get better in practice. We can't take any days off and just get better as we prepare for big games."