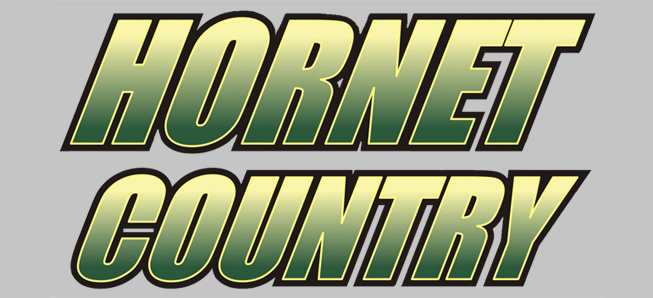 Hornet Football overcomes sloppy start to beat Athens
By: Ed Weaver / September 27, 2014
The Wellsboro Varsity Football team scored 29 second-half points to beat the Athens Wildcats 41-0 on Friday, September 26.
After two weeks of scoring 50 plus points in the first half of games, the Hornets were held to 12 first half points due to turnovers and penalties. Both Athens and Wellsboro were flagged for 16 penalties in the first half, and the Hornets were penalized 15 times for 135 yards during the game.
"We made some big mistakes in the first quarter that hurt us offensively," stated head coach Matt Hildebrand.
Despite the penalties, Wellsboro started off quick as Senior Quarterback Michael Pietropola threw a slant to Senior Receiver Kieron Smethers that turned into an 84 yard touchdown to put Hornets up 6-0 just 20 seconds into the game.
Wellsboro's defense forced Athens to a three-and-out and Pietropola again guided Wellsboro down the field, aided by two pass interference calls against the Wildcats, but Tyler Forbes ended the threat with an interception, Pietropola's first of the season, in the end zone.
Athens put together a long drive, but Senior Dylan Widows intercepted a pass in the end zone that ended their threat. Wellsboro could not get anything going on their next drive as they were hit with the penalty bug focing them to punt. Athens again put together a long drive, and found themselves inside the Green Hornets' 10-yard line, but the Wellsboro defense forced a fumble and recovered.
"Our defense was dominate the whole game," continued Hildebrand.
Athens would mount a third drive after forcing a Wellsboro fumble, but turned the ball over on downs at the Wellsboro 11-yard line.
From there, Senior Running Back Levi Mack took over and busted off a 60 yard run to the Athens 29-yard line. Five plays later, Pietropola scrambled in from 8 yards out to push the lead to 12-0 with 3:01 left in the half.
In the second half, the game belonged to Wellsboro as Mack went back to work and ripped off a 64 yard touchdown run on Wellsboro's first offensive play to make it 18-0 with 8:45 left in the third quarter. Following an interception by Junior Anthony Cooper on Athens' first play following the ensuing kickoff, Mack ran for 16 yards, then Pietropola scrambled and broke loose on a 55 yard touchdown run. Pietropola then hooked up with Cooper on a conversion pass to make it 26-0 with 7:02 left in the third quarter.
The Green Hornets tacked on another third quarter touchdown when Smethers raced under a Pietropola bomb for a 72 yard touchdown. Pietropola ran in the two-conversion to make it 34-0. Wellsboro added a fourth quarter touchdown on a 2 yard touchdown run by Mack that was set up by a bad punt snap by the Wildcats that resulted in a 36 yard loss to the their two-yard line.
Wellsboro piled up 580 yards in total offense for the game. Pietropola completed 7-of-18 passes for 213 yards and two touchdowns. He also gained 90 rushing yards and scored twice on seven carries. Mack rushed for 217 yards and two touchdowns on 13 carries and Smethers hauled in three receptions, including two for touchdowns and 161 yards.
"The second half the kids did a great job making adjustments and limiting penalties," Hildebrand concluded. "I was happy to see how we responded to adversity, and Levi did a great job running tonight."
The Hornets, now 5-0 (1-0 NTL Division 1), will take on Troy on Friday, October 3 for Homecoming.