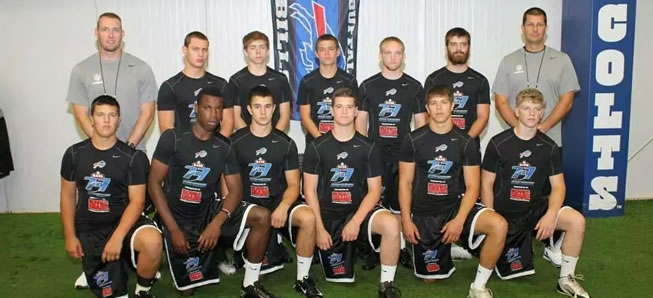 Hornets back from NFL HSPD 7-on-7 tournament
By: Ed Weaver / July 22, 2014
Members of the Wellsboro football team competed in Indianapolis last week at the NFL HSPD 7-on-7 national tournament representing the Buffalo Bills.
The Hornets' 12-man team played in eight games over the course of two days against the best of the best in high school football from around the nation.
"Indianapolis was a great experience for both the players and the coaches," said head coach Matt Hildebrand. "Our record was 1-7 but we could have very easily been 4-4. We lost three games by 3 points and one of those games was in overtime. We also lost two games to the number one team in the country from Miami, Booker T. Washington High School. They had 12 D-1 recruits on their team. One of the biggest things that our kids got out of the experience was the level of competition was like no other they had ever seen.
"The speed of the players and the game was amazing and really open our players eyes to what big time football was all about. I think that this will serve them very well as we move into the season having competed against such a high level of competition. I am in awe of how our boys competed in Indy. They were competitive in every game and represented themselves, the community of Wellsboro and the Buffalo Bills in a very positive light.
"Each night the boys were presented with a speaker from the NFL. It was a great opportutnity to hear and meet these individuals that have competed at the highest level of the game and share with the kids what it took to get to that point. The players also had a chance to meet and interact with other high school players from all over the United States. These opportunities will serve us well as a football team as we get ready for the 2014 season but also help these kids in their future life experiences," concluded Hildebrand.
Defensive Coordinatior Mike Pietropola attended the tournament and was very pleased with how the team played.
"I thought the opportunity presented to our young athletes was absolutely wonderful. Our athletes grew both athletically and personally during their three day stay in Indianapolis. The players had a great opportunity to see great competition and compete against some of the best high school athletes in the nation.
"I personally feel that our kids received an education during there stay in Indianapolis as they had the chance to listen and ask questions of former NFL players. The theory behind this was for the NFL players to be open about challenges that had faced and how young athletes could learn from there mistakes. One of the most eye opening presentation was on the ability of NFL security to retrieve Social Media posts that athletes had posted and how they can negatively affect a student athlete and future job opportunities," concluded Pietropola.
Soon to be Senior Quarterback Michael Pietropola and Sophomore Quarterback Brandon Lamphier also reflected on the trip.
"The experience was amazing because we saw kids that were unbelievably talented," Lamphier said.
"It was a great experience for us. We got to see a lot of competition and play against the best," Pietropola stated. "We went and competed and got better as a team and put out max effort and that is what matters. We learned that there is a lot of good teams out there so continue to work hard so you can reach that level."
Game results
Day One
NY Jets 24, Hornets 21
Miami Dolphins 45, Hornets 7
New England Patriots 35, Hornets 14
Washington Redskins 31, Hornets 3
Dallas Cowboys 24, Hornets 17 OT
Day Two
Philadelphia Eagles 35, Hornets 7
Hornets 20, NY Giants 0
Miami Dolphins 31, Hornets 10