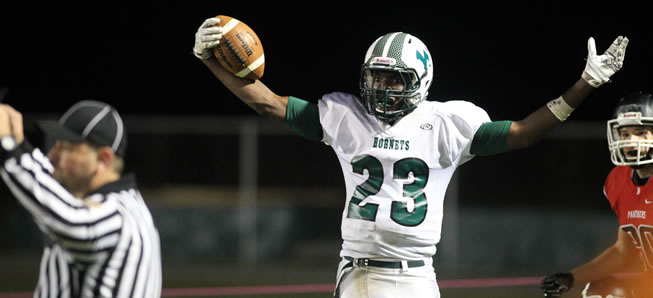 Hornets come from behind to beat Bloomsburg, 28-24
By: Ed Weaver / October 11, 2014
The Wellsboro Varsity Football team scored 14 fourth quarter points to come back and defeat Bloomsburg 28-24 in the final minutes on Friday, October 10.
After getting injured the previous week, Senior Quarterback Michael Pietropola came off the sidelines for the final drive after Sophomore Quarterback Brandon Lamphier was sidelined to throw a game-winning 15 yard touchdown pass to Senior Kieron Smethers.
"Brandon played a great football game tonight," Pietropola said. "We wouldn't have been in the situation if it wasn't for Brandon and the guys. He played amazing all night and did what we needed him to do."
Wellsboro skipper Matt Hildebrand was pleased with his team's efforts on the night.
"I thought Brandon did a great job for us tonight and unfortunately on that last series he took a shot," Hildebrand said. "We weren't planning on playing Michael tonight but big-time players rise to the occasion and he got it done for us tonight on the last drive with Kieron."
Lamphier, who made his first career Varsity start on the night, played well as he completed 9-of-19 passes for 110 yards and 2 touchdowns and pulled the Hornets to within three (24-21) before being knocked out of the game with a 36 yard touchdown pass to Senior Nick Marple to set the stage for the comeback.
Wellsboro started the game trading offensive possessions before Senior Running Back Levi Mack ripped off a 52 yard run to go up 7-0 with 5:37 remaining in the first quarter following Senior Jack Chambers' extra point. Bloomsburg would get on the scoreboard with 12 seconds remaining in the opening quarter as Sam Miller returned a Mack fumble for 64 yards. Wellsboro's defense would block the extra point attempt to set the score at 7-6 Wellsboro.
The Hornets again traded offensive drives before the Lamphier found Smethers for a nine yard touchdown after Mack got the Hornets into the red zone after a 43 yard run. Following Chambers' extra point with 1:27 remaining in the first half the Hornets led 14-6 at the half.
The second half belonged to Bloomsburg as they scored 18 unanswered points. After holding Wellsboro on their opening drive of the third quarter the Panthers went to work and converted a 37 yard pass on fourth-and-five and scored on a one yard run by Quarterback Coty Kashner to tie the game at 14-14 after a successful two-point conversion with 6:58 left in the third quarter.
Wellsboro's next two offensive drives stalled out as Bloomsburg took the shift in momentum and took a 21-14 with 10:27 remaining in the game on a 34 yard pass from Kashner to Brandon Breisch. The Panthers added a 26 yard field goal with just over four minutes remaining to push their lead to 10 points before the Hornets got back into gear.
A 50 yard kick return up the Wellsboro sidelines by Marple energized the struggling Hornet offense as Lamphier threw his second touchdown pass, this one being a 36 yarder to Marple to bring the team within three points as the visiting team trailed 24-21 with 3:50 remaining. From that point on the Wellsboro defense came alive to force the Panthers to punt the ball back to Wellsboro for the final drive of the night.
The Hornets started at their own 25-yard line. Lamphier's first down pass fell incomplete but the Sophomore gained 15 tough yards on second down to set the team up with a first down at the 40. Senior Dylan Widows caught an 11 yard Lamphier pass to give Wellsboro another first down before Lamphier would exit on the next play after getting sacked. Pietropola entered the game and connected with Smethers on a 42 yard pass to get the Hornets down to the Panthers' 15-yard line before connecting with him for the game's final touchdown with 57 seconds remaning to claim the 28-24 win.
"I wasn't sure how Michael's arm was feeling when he came in," Smethers said. "I told him to trust in me when we got in the huddle and we connected on a couple (passes) and were able to score."
"The last drive was very nerve-racking being down and Kieron came up big for us tonight. The offensive line were pushing guys around all game and Levi ran the ball like a man," Pietropola continued.
Pietropola was 2-4 for 57 yards and one touchdown. Mack had his third 100 yard game as he put up 140 yards on 19 carries and a touchdown. Smethers caught five passes for 79 yards and two touchdowns and Marple caught two passes for 69 yards and a touchdown.
Next week, the Hornets, 6-1 (1-1 NTL Division 1), take to the road for the final time in 2014 against Wyalusing.
"Wyalusing likes to play similar to Troy and have a great running attack. We'll look to play a solid defensive game and hopefully get healthy as we make the final push for Districts," Hildebrand concluded.