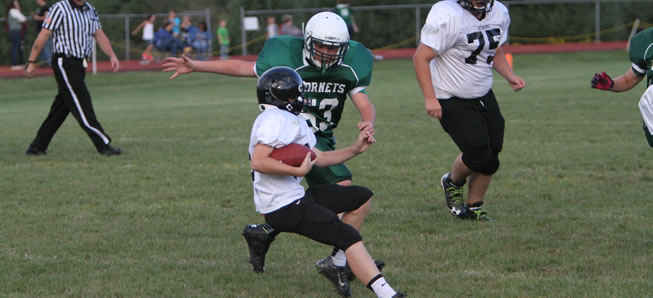 Middle School Football team ties Towanda, 6-6
By: Ed Weaver / September 19, 2014
Offense was at a premium when the Wellsboro Hornet Middle School football team tied the Towanda Black Knights in football on Thursday, September 18.
The Wellsboro defense held its ground throughout the first half, as they got consistent line play from their lineman. Hunter Brown consistently found himself in the backfield making tackles for a loss. Both defenses held their ground through the first half, as both offenses were stymied by penalties and errors. The score at the half was 0-0.
To start the second half, the Hornet offense put together a drive highlighted by some big runs by Connor Ramsey. The offensive line of Ben Barnett, Hunter Brown, Brennan Catherman, Carson Davis and Alex Burrell controlled the line of scrimmage during the drive. Ramsey would eventually carry the ball into the end zone to score for the Hornets. The two point conversion failed, putting the Hornets up 6-0.
Towanda would be held on their next drive, but mental mistakes and penalties by the Wellsboro offense would back them up to their own 5 yard line. The punt coverage broke down for Wellsboro, and Towanda returned the punt for a touchdown. Their two-point conversion would fail, leaving the score at 6-6. The teams would trade offensive series, but both were stopped, leaving the game at 6-6. There is no overtime in Middle School football, resulting in a draw.
"Our defense continues to impress," commented head coach Shane Mascho. "They had their second consecutive scoreless game. Overall we played well, but a special teams break down led to their score."
Defensive standouts for the Hornets were Hunter Brown, Robert Brown, Carson Davis and Taynton Repard. The Hornets are now 1-1-1 on the year and will travel to Canton on Thursday, September 25 to take on the Warriors.