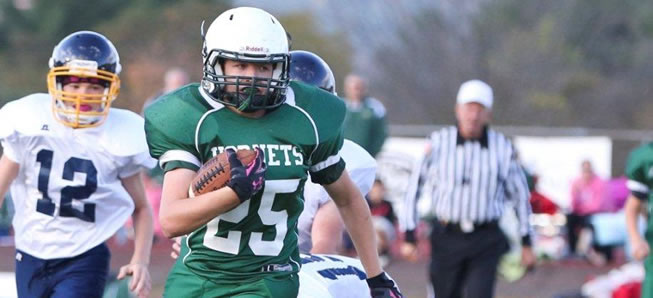 Middle School Hornets top CV, 35-6
By: Ed Weaver / October 10, 2014
The Wellsboro Middle School Football team kicked off the second half of their season on Thursday, October 9th as they defeated the Cowanesque Valley Indians 35-6.
The Hornets returned to action after having a bye week the previous week. The defense started the game stingy forcing a stop and putting the ball in the offense's hands. Once the Hornets had the ball, the offensive line opened up holes for Connor Ramsey and Robert Brown to drive down the field. Robert Brown would cap the drive off with a 30-yard touchdown scamper.
The defense forced a three and out, putting the offense back on the field. Robert Brown punched the ball in from 5 yards out, and quarterback Tanner Button found Silas Wagaman in the end zone for the two-point conversion, putting the Hornets up 14-0.
Cowanesque Valley would capitalize on the ensuing drive, scoring a touchdown, making the score 14-6.
Cowanesque recovered the onside kick, but the Hornet defense came up with the stop.
Aiden Hauser took a Tanner Button pass 30 yards to put the Hornets in the Red Zone. Hauser would carry the ball in the end zone with seconds remaining in the half. The two point conversion failed, leaving the score 20-6 Wellsboro at the half.
Hauser opened the second half with some fireworks, as he took the kickoff return all the way to the Indians 5 yard line before being caught from behind. After a couple of penalties backed Wellsboro up, Tanner Button found Andrew Brelo in the end zone for a touchdown pass. Button found Michael McNair for a pass for the two-point conversion.
The Hornet defense took one last shot from the Cowanesque offense, and bent, but did not break returning the ball to the Hornet offense. The Wellsboro offense grinded out a methodical drive chewing time off the clock. Aidan Perry and Clayton Orrsborn got tough yards for Wellsboro to move the ball into CV territory. Tanner Button found Silas Wagaman on a pass to put an end cap on the game for Wellsboro. Andrew Brelo tacked on the extra point, making the score 35-6.
"Our guys came out firing today," remarked head coach Shane Mascho. "The offensive line did their best job in a game this year. There were few mental mistakes, and we got positive yardage on almost every play. We had some younger guys step in due to injuries, and whoever has been plugged in has stepped up to do a nice job."
The team is now 3-1-1 following the win and will travel to Sayre on Thursday, October 16.