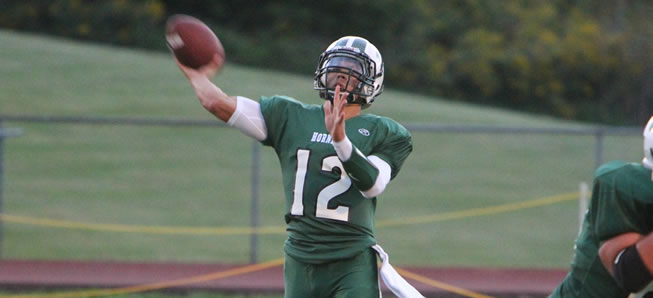 Pietropola becomes new All-Time passing leader
By: Ed Weaver / November 19, 2014
Senior Quarterback Michael Pietropola is the new all-time leading passer in Wellsboro Football History.
Wellsboro has had some great quarterbacks put on the Green and White throughout the years. Jeff Coolidge and Tim Cisco each won NTL titles back in the 1970's. Todd Coolidge was Wellsboro's first back-to-back 1,000 yard passer. Jeff Zuchowski, Jay Young, and Will Osgood were all dual-threat athletes that could hurt opposing teams with their arms as well as their legs, and Cameron Jones and Ben Shaw were very well-round pocket passers. All etched their names into the Wellsboro Varsity Football Record Books*, but Pietropola has surpassed them all.
From a young age Michael was on the sidelines and on the practice field as he watched his father craft some of the area's best defenses.
"My dad brings a lot of fire and intensity to the game of football and that is what I love about him. When I was younger we would go outside and and throw the football around with him and he was always there for me. Everyone knows me as a quarterback but I think I had a decent year at defensive back, and playing well on defense I think shows him that I love playing physical and with emotion and those were the things he has always taught."
His father Mike Pietropola was the head coach from 1999-2000 and then became the Defensive Coordinator in 2001 and held that spot until 2008. "Coach P" returned to the sidelines as a volunteer in 2011 and later the past two seasons as he resumed his coordinator role. Coach Pietropola is proud of his son's accomplishments and notes the hard work and dedication that he has put in during his high school career.
"To be honest with you it's stuff that he has done on his own. Michael has put the time and effort in and the hard work. We spent a lot of time going to a bunch of camps the past few summers and his dedication and commitment to the weight room ultimately has paid off. I've coached for a lot of years and of course he's my son and we can always say great things about our own kids, but the thing about Michael is that he's self driven and if you look at all the great athletes at higher levels, those are the kids that are driven by themselves and he has that inner drive to be successful and he's never going to quit."
Being on the sidelines at a young age also led to Pietropola to realize the importance of hard work.
"I remember being there when I was real little and watching guys like Jake Coolidge, Pat Driebelbies, Steve Mengee and all those guys set a good example. They showed us younger guys what hard work was like. They had a winning season their senior year and that carried over to Middle School when the program was down. We knew that we could bring the program back up to where it is with hard work."
Pietropola had stability at head coach during his career at Wellsboro. Steve Boyce manned the helm during his freshman and sophomore years and turned the program around to finish with a .500 record in 2012 (after two previous years of finishing 1-9) before stepping down. In 2013 and 2014, Matt Hildebrand took over after being the offensive coordinator in 2012 and Pietropola flurished.
"Coach Boyce is a great coach and he made sure we were very hard working and it's showed that hard work will pay off. I also had Coach Hildebrand in Middle School and he instilled in us the principals of hard work and continued that when he took over at the Varsity level. Both coaches did a magnificent job of getting the program to where it is today and I credit them with all of this."
Hildebrand was a former quarterback at Dallastown and Mansfield University.
"Coach Hildebrand definitely helped in my development and progression," Pietropola said. "He showed me a lot of tricks to being a great quarterback, he gave tons of great information, and he's just a great coach. We have a great connection with each other and I wouldn't be here today without him."
According to Hildebrand, Michael is special athlete that only comes around once in a career.
"Michael has a great career at Wellsboro that may never be replicated," Hildebrand said. "Michael has set about every record at Wellsboro, in the NTL, and even in District IV, but none of that came by accident. Michael has put countless hours into making himself and those around him better. Michael was the engine that drove our team and is a major reason that we were 10-1 last year and 8-3 this year.
"Besides being a great football player Michael is a great young man," continued Hildebrand. "Michael has always played with passion and a drive that inspired his teammates around him and has helped raise the standard for the program and those that come after him. Michael has a lot of football ahead of him and whatever college program is fortunate enough to get him will be a better program because of him. He has a very bright future and he will leave a big void in our program. I would like to personally thank Michael for all he has done for the program and the opportunity to coach him."
Before Pietropola started in high school, the program was in a low point. After making their first playoff appearance in 13 years in 2008, the team had back-to-back 1-9 seasons in 2009 and 2010. In 2011, Pietropola's first year, the team finished 4-6 as they were undergoing changes and rebuilding the program.
"Winning a couple more games that year to go 4-6 was nice, and then going 5-5 the following year we could see we were on the right track. At the time we were satisfied with that but then the following year (2013) going 10-1 that was big for the program. This year we finished 8-3 and now the program is evoloving so that winning is now a part of Wellsboro football."
During his three years as the starting quarterback, Pietropola has had some of the best receivers Wellsboro has ever had. Guys like Brandon Owlett and Dylan Prough who only played one year (2013), but left their mark on the program, along with Kieron Smethers and Nick Marple who had standout years in 2014.
"Brandon, Dylan, Kieron, and Nick are outstanding receivers and they made big plays every single game. I could throw a little bubble screen to Brandon and he could turn that into a large gain and Nick, Dylan, and Kieron would always have big time catches and make big time plays and saved my butt. I didn't always make the best throws but they were always there to bail me out."
After a stellar 2013 junior season which saw him throw for the most yards in a single-season (2,755), Pietropola became the only quarterback in team history to throw for 2,000+ yards and only one of three (Coolidge and Jones) to throw for 100+ yards in back-to-back seasons. After his senior year of 2014, Pietropola became the only quarterback to throw for over 2,000 yards in back-to-back seasons. In total, Pietropola holds 13 records including completions in a game (26), season (128), and career (329), yards in a game (405), season (2,755), and career (6,150), and touchdowns in a game (6), season (39), and career (68).
Despite setting all the records and putting up big numbers, the wins are what Pietropola will remember the most about his playing days for Wellsboro.
"The numbers and records mean a lot to me, but the wins mean the most. We've won 18 games in just the last two years alone that is what really means a lot to me. The personal numbers are nice but the wins and playing with such a talented group of linemen, running backs and receivers mean the most. I love the game and am really going to miss going to miss high school football," Pietropola concluded.
WellsboroFootball.com would like to thank Michael for a great career, both on and off the field, and wishes him the best of luck in the future.
* - Records may not be accurate to date due to incomplete stats. If you know of a record not currently listed on this page, or have game statistics or film from previous years, please contact us.