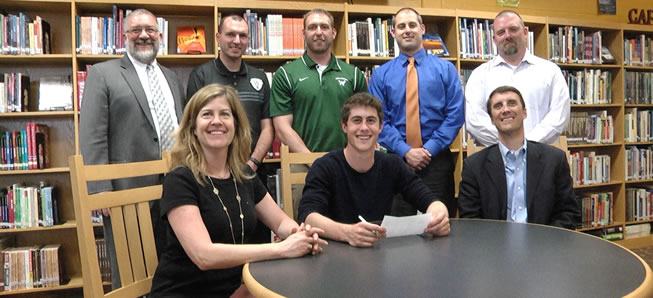 Chambers to kick for Bucknell
By: Ed Weaver / May 6, 2015
Senior Jack Chambers has officially announced on Tuesday, May 5 that he will be a member of Bucknell University's football team in the fall.
Chambers was the Hornets' kicker the past four seasons and his primary background in soccer was an excellent translation to football. Over the course of his career, Chambers was 118-132 (0.893) in extra points and made 61-67 (0.910) extra points during the Hornets' undefeated regular season in 2013, all Wellsboro Varsity Football Records*.
"My process was a easy as my family has all attended Bucknell, but I really love their football program and want to help them get better," Chambers said. "I've been there probably ten times just this year to see my sister and everybody, but its a lot of fun and a very nice campus. The programs there are great too, I plan on going for engineering. It's a great program and a great choice for me."
Head coach Matt Hildebrand is very proud that Jack will continue his football career next year, and credits his work ethic for making that a possibility.
"Jack was a key part in turning the program around," Hildebrand said. "As a coach this is really what you hope for to know that you were able to help someone prepare for their future. Jack will be very successful in college due to his work ethic. Living in such a small area it is not as easy to get noticed, but Jack helped himself with his play, but also his strong work ethic in the classroom. The entire Wellsboro coaching staff is very proud of Jack and wishes him the best of luck in his college career."
WellsboroFootball.com would like to congratulate Jack on his commitment to Bucknell and wish him the best of luck at the collegiate level.
* - Records may not be accurate to date due to incomplete stats. If you know of a record not currently listed on this page, or have game statistics or film from previous years, please contact us.