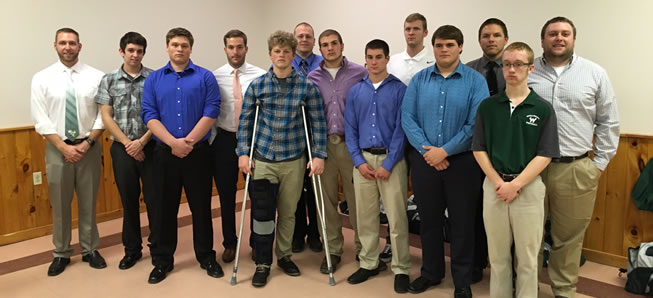 Gridders Club honor 2015 Seniors
By: Ed Weaver / December 14, 2015
The Wellsboro Gridders Club honored the 2015 Senior class on Sunday, December 13 at the Wellsboro Firemen's Annex for their yearly end-of-season banquet.
As family members and friends gathered to close out the season, head coach Matt Hildebrand recapped the District IV Class A championship season, members of the coaching staff shared their favorite stories from the last year about the seniors, and following the speeches, the team gathered around to watch the annual highlight video presented by Wellsboro Home Page to close out the afternoon.
WellsboroFootball.com would like to thank the Gridders Club, Coach Hildebrand, Coach Nate Babcock, Coach John Johnston, Coach Ben Miller, Coach Chase Kriner, Trainer Alexis Knowlden, Coach Connor Coolidge, Strength Coach John DeLeonardis, Coach Shane Mascho, Coach Jeff Bobinko, Coach Chris Reese, Coach Jack Whitmer, and everyone who helped make the 2015 season special.
WellsboroFootball.com will have more from Sunday's banquet later in the week.