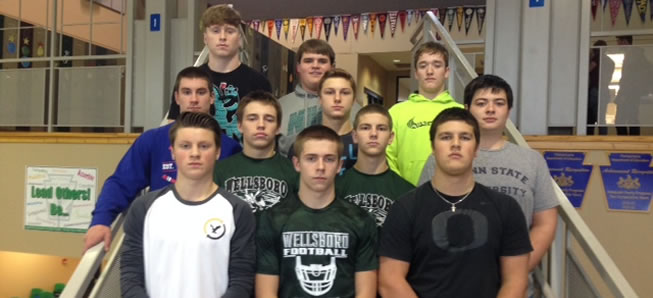 Henry, Jones, Covert take top NTL football All-Star awards, Hildebrand NTL Coach of the Year
By: Ed Weaver / December 15, 2015
Sophomore Quinn Henry, Junior Parker Jones, and senior Owen Covert were named Offensive player, Defensive player, and Lineman of the Year and head coach Matt Hildebrand and staff were named Coaching Staff of the Year as the NTL named their football All-Stars on Tuesday, December 15.
Henry was the Co-Offensive Player of the Year as he rushed for 1,045 yards, threw for 1,373 yards and accounted for 34 total touchdowns. Henry was also the first Wellsboro quarterback to rush and throw for 1,000 yards in team history* for a single season.
Jones recorded 83 tackles and 7 sacks from his defensive end position to earn Defensive Player of the Year honors. Covert anchored the offensive line that had one of their best years for Lineman of the Year honors.
Coach Hildebrand is in his third year as he coach and is already tied for 3rd all-time for the most career wins (28) and has guided the Hornets to three straight District IV playoff appearances and won the 2015 District IV Class A title over rival North Penn.
"I am very proud of all the boys that received recognition. This year we had 3 players take home the large awards of Offensive, Defensive and Linemen of the year. I do not believe that this has ever been done in Wellsboro," Hildebrand said. "These awards are all very deserving. Many of these players were not known outside of our own locker room before the season. They opened many people's eyes. There was a lot of work put into the offseason and daily practice that led to the success on the football field. As a coach it is very rewarding to see that your players get the respect of other coaches around the league. People are finally starting to notice the quality athletes that Wellsboro Football is producing."
Jones and Covert were both 1st team defenders and senior Nick Tremper joined them at his outside linebacker spot. Tremper broke a 26-year old record for tackles in a single-season, surpassing Kurt Benjamin's 1989 record of 146 tackles with 161 tackles this year.
Sophomore Collin Pietropola (inside linebacker), Henry (free safety), and sophomore Alex Kozuhowski (corner back) were all 2nd team selections, and freshman Robert Brown (inside linebacker), sophomore Chase Moser (strong safety), and Pietropola (punter) were honorable mentions.
On the offensive side of the ball, Jones was a 1st team tight end and Covert was a 1st team tackle. Henry (quarterback), Tremper (fullback), Moser (versatility), junior Brandon Lamphier (wide receiver), Pietropola (center), and junior Kaleb Smith (guard) were all 2nd team selections. Honorable mentions include sophomore Nic Ingerick (kicker) and junior Ethan Nichols (tackle).
WellsboroFootball.com would like to congratulate Coach Hildebrand and staff, and all these young men on their selections.
View the 2015 NTL Division 1 All-Star selections.
View the 2015 NTL Division 2 All-Star selections.
* - Records may not be accurate to date due to incomplete stats. If you know of a record not currently listed on this page, or have game statistics or film from previous years, please contact us.