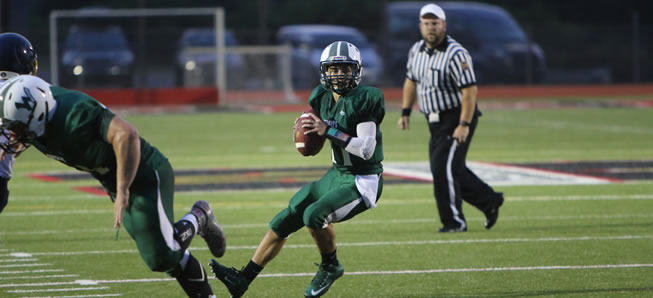 Henry's four touchdowns lead Hornets over CV
By: Ed Weaver / September 5, 2015
Sophomore Quarterback Quinn Henry threw for four touchdowns as the Wellsboro Varsity Football team defeated Cowanesque Valley 54-6 on Friday, September 4 at Mansfield University's Karl Van Norman Field to kick off the 2015 season.
After an injury to projected starter junior Brandon Lamphier in pre season, Henry picked up where two-time All-State Quarterback Michael Pietropola left off last year. The Hornets' opened the game up a scored on their first drive, following a Cowanesque turnover, as Henry eventually found junior Parker Jones for a 15 yard touchdown. Sophomore Nic Ingerick's kick was good and the Hornets led 7-0 with 8:17 remaining.
After a three-and-out on Cowanesque's next drive, the Hornets went back to work and put together a 10 play drive that ended with another Henry touchdown, this time to senior Anthony Cooper from two yards away to put the Hornets up 14-0 after Ingerick's extra point.
The Hornets' defense forced two more turnovers on the next two Cowanesque drives. The Hornets would capitalize on the second of the two turnovers as Cooper found the end zone from five yards out with 11:31 remaining in the first half to put the Hornets up 21-0.
Cowanesque would break the shut out on the ensuing kick off as Colton Vinluan returned the ball 82 yards to the house to trail 21-6 with 11:16 remaining in the half. The Hornets went back to work and put together another scoring drive, this time resulting in another Henry to Jones touchdown from 10 yards out to put Wellsboro up 28-6.
Following a Cowanesque punt on their following drive, sophomore Alex Kozuhowski set the Hornets up inside the 10-yard line with a 63-yard punt return. The Hornets capitalized on Kozuhowski's play as Henry found sophomore Chase Moser for a diving catch in the back of the end zone to take a 35-6 lead at the end of the first half.
The Hornets added another touchdown on their opening drive of the second half as senior Nick Tremper plowed his way across the end zone from six yards out to cap a six play drive totaling 62 yards, all earned by Tremper, to go up 41-6 with 9:19 left in the third quarter. Another Cowanesque turnover on their following drive gave the Hornets the ball back on the Indians' 12-yard line and after a handful of plays Cooper found the end zone again from eight yards out to take a 48-6 lead.
The Hornets ended the scoring late in the fourth quarter as sophomore Collin Pietropola bulldozed his way from eight yards out to bring the final score to 54-6.
Wellsboro head coach Matt Hildebrand was very happy with the game's outcome for his young team.
"I'm very happy, however in the first half though there were way too many penalties and we can't do that every week. We talked about discipline all week leading up to this game and we definitely need to improve on that. I was real pleased with how we came out to start the second half, we kept the pedal down, cleaned up some of the first half mistakes, and moved the ball very well."
Henry finished 11-for-13 for 96 yards and four touchdowns in his first Varsity game under center. Hildebrand was very pleased with how the young signal caller played.
"We tried to put him in situations where he could be successful tonight and make solid throws," Hildebrand said. "When you have two 6-foot, 5-inch tight ends on the field that really helps a young quarterback out. He did a great job overall and I'm very pleased how he's progressed so far this season."
Henry was the game's leading rusher with 85 yards on 10 carries. Tremper finished with 83 yards on 12 carries and a touchdown, Cooper had 8 carries for 65 yards and 2 touchdowns, and Kozuhowski had 50 yards on seven attempts.
Jones led the Hornet receivers with 37 yards and 2 touchdowns on 4 receptions. Cooper hauled in one pass for 2 yards and a touchdown, sophomore Johnny Rowland had a catch for 31 yards, Moser had 2 catches for 1 yard and a touchdown, and Tremper had one catch for six yards.
Tremper led the team with six tackles on defense and Jones recovered two fumbles on the night.
The Hornets now turn their attention to Muncy, who shut out Warrior Run 35-0. Hildebrand knows that he and the rest of the staff have a lot of work to do during this week to get ready for them.
"Muncy is under a new head coach this year am I'm sure they will be very well coached. They bring back a good number of players that we faced last year and it's a great environment down at their stadium with their fan base. We must cut down on the penalties if we want to win."
The Hornets start the 2015 season 1-0 and will be back on the road next Friday, September 11 at 7:00 p.m. in Muncy.