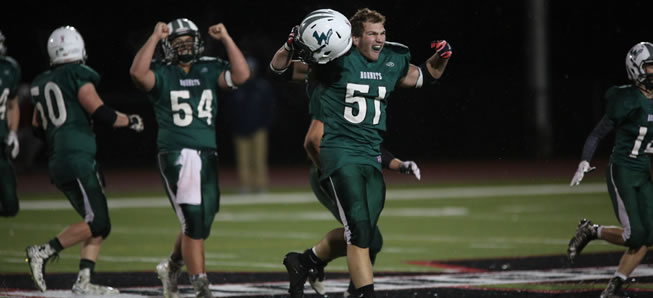 Hornets shutout Muncy, win first ever District playoff game
By: Ed Weaver / November 14, 2015
The Wellsboro Varsity Football team made history on Friday, November 13 with a 14-0 shutout against Muncy for the team's first ever District IV playoff victory at Mansfield University's Karl Van Norman Field.
The Hornets were 0-8 in District playoffs coming into Friday's game, and 0-2 under current head coach Matt Hildebrand with hard fought losses to South Williamsport and North Penn the two previous years.
"This is my third year as the head coach so the third one's a charm," Hildebrand said. "It was definitely not a pretty win but at this point of the season you take them however you get them. I'm happy we came away with the win and we put ourselves in position to get the district title that we set as our main goal at the beginning of the season."
Both teams struggled offensively in the cold, rain-snow mix. Muncy stuck to their ground game behind brothers Cameron and Coleman Good. Wellsboro mixed things up a little more, but their offense that put up over 360 yards in a 33-12 over the Indians in week two had trouble getting started.
Muncy got a first down on their opening drive as the Hornets committed a personal foul, their first of six on the night for a combined 12 penalties for 120 yards, but the Wellsboro defense held on the next third down forcing Muncy to punt. Wellsboro's opening drive faltered and the Hornets punted the football back to Muncy three plays later.
"We need to be smarter football players," Hildebrand said of all the penalties. "That's what killed us tonight and it's the most frustrating part because it's easy to control. We played a little tight tonight, we were playing not to lose instead of playing to win."
The Indians' second drive started at their owen 42-yard line and gained yards into Wellsboro territory, but again they were forced to punt. Wellsboro started their next drive at their own 17-yard line. After a 9-yard gain by sophomore quarterback Quinn Henry, the drive stalled and Wellsboro was forced to punt again.
Muncy put together more offense on their third drive, and with the help of another Wellsboro personal foul, got inside the Hornets' 15-yard line, but senior Owen Covert knocked the ball out of Cameron Good's hands on third-and-12 where senior Phillip Straniere recovered.
The Wellsboro offense still couldn't get into gear and were focred to punt yet again at the Muncy 48-yard line. Sophomore Collin Pietropola's 31-yard punt pinned Muncy at their own 17-yard line, and after a sack by junior Parker Jones, the Hornets got the ball back on Muncy's 28-yard line after a bad punt.
The Hornet offense finally came alive as Henry connected with sophomore running back Chase Moser from 25 yards out with 8:08 remaining in the first half. Sophomore Nic Ingerick's extra point was good, and Wellsboro led 7-0.
The score remained 7-0 Wellsboro as neither team could find the end zone as the first half wound down. Wellsboro would get the ball to start the second half and only needed three plays to score. Henry rushed for one yard on the first play and senior Nick Tremper picked up three on the second play. With the Hornets facing third-and-six from their own 40-yard line, Henry rolled to his right to pass, but the Hornet receivers were covered, so he tucked the ball, picked up a few key blocks, and raced 60 yards to the end zone to put Wellsboro up 14-0 with 10:25 left in the third quarter.
The Hornets forced Muncy to punt for the fifth time on their next drive and started with good field position at Muncy's 40-yard line. Henry picked up a first down on a 15 yard run then found Jones for 20 yards for his only catch of the night a handful of plays later for another first down at Muncy's 6-yard line. Two runs by Tremper got the ball down to the Muncy 1-yard line, but the Indians kept Wellsboro out of the end zone on back-to-back attempts to take back over.
In the shadow of their own end zone, Muncy had trouble gaining any ground and were forced to punt for the sixth time from their 4-yard line. Wellsboro took over at the Muncy 24-yard line but turned the ball over on downs four plays later.
After holding Muncy on their next drive, Wellsboro took over at their 35-yard line. The Hornets went to the ground with runs from freshman Robert Brown and sophomore Alex Kozuhowski to pick up a first down. Tremper and Henry split carries for the remainder of the drive, with another Kozuhowski run in the middle, to get into striking distance. The drive came to an end on the Muncy 16-yard line as Henry was intercepted in the end zone.
Both teams traded drives as the game wound down, with Wellsboro coming out on top.
Henry was 4-for-11 passing for 49 yards and 1 touchdown, and also ran the ball 23 times for 179 yards and a score. Moser finished with 17 yards on five carries, Tremper had 18 yards on 17 carries, Brown carried the ball twice for five yards, and Kozuhowski had two carries for 17 yards.
Moser led the Hornet receivers with one catch for 25 yards and a score, Jones caught a pass for 20 yards, and junior Brandon Lamphier caught two passes for four yards.
Defensively, Tremper had 14 tackles, Jones had 9 tackles and a sack, Straniere had a sack, junior Kaleb Smith had 9 tackles, and Pietropola had 7 stops.
Next week, the Hornets (9-2) will face off against rival North Penn (6-5) two weeks removed from their epic 35-34 double overtime game at Mansfield University's Karl Van Norman Field for a shot at the school's first District IV football championship.
"The last game (against North Penn) was a little stressful, but it will definitely draw some fans and I'm looking forward to a good game like last week," Hildebrand concluded. "That game could have went either way. We know what they have and they know what we have, so it will be a showdown."