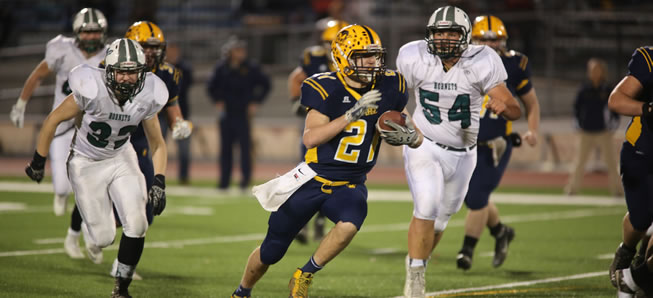 Hornets fall to Old Forge, 28-21
By: Ed Weaver / November 28, 2015
The Wellsboro Varsity Football team's historic season came to an end as they lost 28-21 to Old Forge in the first round of PIAA playoffs on Friday, November 27.
The District II champion Blue Devils scored the game's first points after sophomore Chase Moser coughed up the football inside the Devils' 30-yard line. Old Forge rattled off three straight runs by Cooper Califano to get into Wellsboro territory, then quarterback Joseph Gutowski hit Jaret Horn on a big 35 yard gain for a first down to the Hornets' 12-yard line. Three plays later Califano went 7 yards and crossed the goal line for the score. Horn made the extra point and Old Forge led 7-0 with 6:57 remaining in the first quarter.
Wellsboro went backwards on their second drive and were forced to punt after three plays, but the defense forced Old Forge to a three-and-out and forced them to punt. Sophomore quarterback Quinn Henry returned the punt 26 yards to set up the Hornets near midfield. After an incomplete pass and a loss by senior Nick Tremper, the Hornets were facing a third down and eventually picked up the first down on a pass interference call.
Two plays later Henry hit junior Brandon Lamphier for 25 yards down to the Devils' 13-yard line. Henry's next pass fell incomplete, but he then hit back-to-back passes to sophomore Parker Mann and junior Parker Jones to get down to the 1-yard line. Henry then snuck the ball across the goal line with 11:29. Sophomore Nic Ingerick's extra point was on the money, and the game was tied at 7-7 with 11:29 left in the first half.
Old Forge's next drive ate a huge chunk of time off the clock as they kept the ball on the ground. The Devils put together a 10-play drive, and picked up three first downs, but were eventually stopped on fourth down at the Hornets' 22-yard line. The Hornets went back to work as Moser Henry busted off a 9 and 10 yard runs, but the drive stalled as they were penalized for having a lineman illegally down field on a screen pass to Tremper forcing another punt.
Starting at their own 42-yard line, Gutowski picked up a 16 yard gain on first down then hit Califano on a swing pass one play later for a 42 yard touchdown to make it 14-7 with 3:46 remaining in the half.
Trailing 14-7 as the second half started the Hornets' defense held Old Forge to a three-and-out on their first drive on the half and got the ball back at midfield after the punt. The Hornets lost yards on their first two plays as sophomore Alex Kozuhowski was dropped for an 11 yard loss and Henry was sacked. Facing third-and-22 Henry hit Jones for 11 yards to get some of the yards back, but were forced to punt the ball away.
Head coach Matt Hildebrand dug into his bag of tricks on the punt as he dialed up a fake punt. Sophomore Collin Pietropola rolled out to his right but pulled up and hit Moser for a 12 yard gain to pick up the first down. One play later, Henry went up the middle of the Devils' defense and raced 39 yards for the score to tie it at 14-14 with 7:02 left in the third quarter.
"We gave Collin the opportunity to make a play," Hildebrand said. "We gave him the chance to take a look. If he likes the matchup he can throw it or tuck it an run and he made a great throw. You have to pull out all the stops at this point in the year."
With any big play, the fake punt brought the Hornets back to life and shifted momentum that Old Forge had as the second half started.
"I was happy how we came out of the locker room," continued Hildebrand. "We stopped them on their first drive and were able to capitalize there ourselves, and that fake punt opened our guys' eyes a little bit to the fact that we could play with them. We were close several times, but someone has to win and someone has to lose and unfortunately we came up with the short end of the stick."
Califano broke the tie on Old Forge's next drive as he ran four out of five plays, with the last run being 22 yards, to retake the lead at 21-14 with 4:39 remaining in the third.
Both offense's struggled for the remainder of the third and the majority of the fourth quarter. Wellsboro had the ball with under three minutes remaining in the game and tried to get creative, but it ultimately backfired as Brendan Mozeleski intercepted Henry and returned it 32 yards for the Devils' final touchdown to make it 28-14 with 2:07 left.
Down but not out, Wellsboro put together a nice drive after the touchdown. Henry hit Tremper for 20 yards into Old Forge territory, then on fourth down Henry found Jones for 25 yards to set up the Hornets with a first-and-goal from the 10-yard line. Henry went back to Jones one play later for the score to trail 28-21 with 49 seconds remaining.
Wellsboro tried the onsides kick the following play for one last shot, but Old Forge recovered the kick and took a knee to end the game and the Hornets' season.
"That last part of the game shows the character of this team," Hildebrand continued. "We don't have many seniors, but it stems from them. Nobody expected us to be here at this point of the year and as seniors they took the bull by the horns early on said we're going to win a district title and they did just that. They never backed down tonight. Tremper, Anthony Cooper, Wyatt Wood, guys like that have been doing this for four years and they've stepped up and taken whatever punch was thrown at them and threw one back and did it all night. We got big stops on defense at times. We were there, we had our opportunity and you can't ask for anything more losing by a touchdown. We competed in a game that everyone said shouldn't be close and I'm just very pleased with the kids."
Henry finished the game 13-for-29 passing for 171 yards and a score. He also rushed for a team-high 46 yards and two scores. Henry ends the season with 1,373 passing yards and 16 touchdowns and 1,045 yards rushing and 17 touchdowns to become the first Wellsboro quarterback to throw for 1,000 yards and rush for 1,000 yards in the same season.
Moser carried the ball 9 times for 16 yards and Tremper was held for 0 yards on three attempts. Jones led all receivers with six catches for 95 yards and a touchdown. Jones ended the year as the Hornets' leading receiver with 40 receptions for 577 yards and 8 touchdowns.
Defensively, Tremper made 16 tackles to set a new Wellsboro Football record* with 161 tackles in a season. The senior ends his career with back-to-back 100+ tackle seasons and 291 career tackles. Freshman Robert Brown made 14 stops on the night and Pietropola pitched in eight tackles.
The District IV champion Hornets end the year with a record of 10-3, the best overall season record in team history tied the 2013 team for the most wins in a season.
"This is a huge springboard going into next year," Hildebrand concluded. "It's very encouraging, they're upset but it was definitely a learning experience for them."
* - Records may not be accurate to date due to incomplete stats. If you know of a record not currently listed on this page, or have game statistics or film from previous years, please contact us.