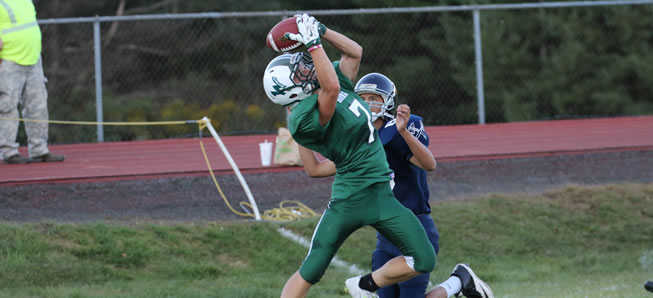 JV Hornets shut out Muncy, 34-0
By: Ed Weaver / September 15, 2015
The Wellsboro JV Football team picked up their second win in as many weeks as they shut out Muncy 34-0 on Monday, September 14.
Both teams traded drives early on in the game until late in the first quarter. Muncy had a chance to score as they drove into Wellsboro territory, but a forced fumble by sophomore Kody Rice and freshman Robert Brown was corralled by senior James Mundy to end the threat.
The Hornets would take a 6-0 lead and never look back with 3:10 remaining in the second quarter as sophomore Chase Moser caught a 9-yard pass from sophomore quarterback Brent English. Wellsboro scored again with 4.5 seconds remaining as Brown punched the ball into the end zone from 3 yards out to make the score 12-0.
Wellsboro started the second half where they left off in the first as sophomore Alex Kozuhowski returned the kick 70 yards for a touchdown. Brown's two-point conversion put the Hornets up 20-0 with 9:44 remaining in the third quarter. The Hornets found the end zone once more late in the quarter as junior David Straniere caught a 29-yard pass from English to put the Hornets up 27-0 following senior Tyler Kennedy's extra point.
Moser sealed the victory with 9:40 remaining in the game as he broke found a running lane in the middle of Muncy's defense before finding running room on the left hash for 48 yards to go up 34-0 after Kennedy made his second extra point of the game.
JV coaches Ben Miller and Chase Kriner were both very pleased with how the team played.
"We had a lot of different things work for us tonight," Miller said. "The JV kids don't get a lot of practice reps during the week so games are usually work on things. We saw a lot of good things tonight, but still have some stuff we have to work on."
Coach Kriner echoed Coach Miller's comments as his defense pitched it's second straight shut out to start the 2015 season.
"I can't talk enough about our defense, two straight weeks of shut out football and causing multiple turnovers. Like on offense we had some minor mistakes on the defensive side, but overall I'm very proud of the kids. You can't teach aggressiveness, but this team has it and hopefully it keeps improving week to week."
With the win, the JV team improves to 2-0. The team will be back in action on Monday, September 28 as they host Sayre.