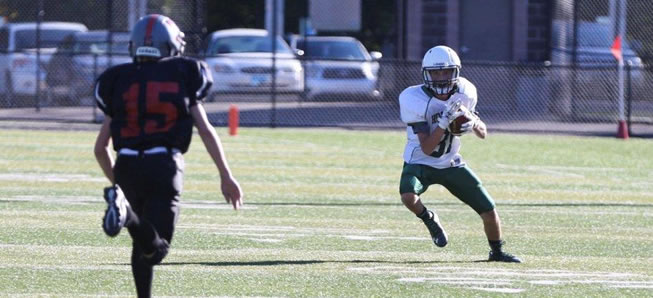 MS Football shuts out Wyalusing
By: Ed Weaver / October 15, 2015
The Wellsboro Middle School Football team scored 21 unanswered points to beat Wyalusing 21-0 on Wednesday, Octboer 14.
On the opening drive, Aidan Hauser took the handoff up the middle and ran 40 yards for the score, aided by good downfield blocking from Silas Wagaman. The conversion attempt would fail due to a bad snap.
The Hornet defense would force a turnover on downs on the ensuing possession and start a drive that carried over into the second quarter. The Hornets would drive the field on the legs of Connor Ramsey, Alex Burrell, and Clayton Orsborn. Ramsey would finish the drive with a four yard touchdown run. Burrell would complete a pass to Wagaman for the conversion to make it 14-0 at the half.
The Rams received the ball in the third quarter and the Hornet defense got the stop led by ends Carson Davis and Zach Florio. The ensuing drive would stall due to penalties for Wellsboro, but they would get a turnover on downs after four plays to get the ball back.
The Hornet offense would put the game out of reach as Burrell connected with Clayton Orsborn for the final touchdown of the game. Davis would convert the PAT, making the game 21-0 Wellsboro.
"It was nice to play at home and beat a tough Wyalusing team," remarked head coach Shane Mascho. "Our defense played well today by limiting the big play, and our offense has started to find its identity with Burrell at quarterback. We just need to keep getting better to finish our season strong."
In the B-game, the Hornets won 14-0. Nathan Marble had a scoop and score on defense and Alex Moore had a touchdown run.
The win improves the team's record to 4-1 on the year. The team will be back in action on Wednesday, October 21 as they host Canton.