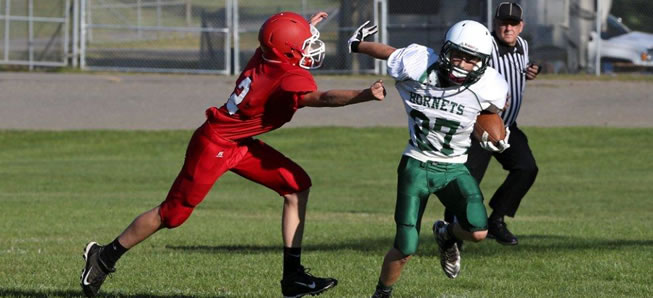 MS Hornets top CV, 41-8
By: Ed Weaver / October 8, 2015
The Wellsboro Middle School Football team travelled to Cowanesque Valley and came away with a 41-8 victory to conclude their four game road trip to start the season on Wednesday, October 7.
Aidan Hauser would be the spark of the Hornets offense scoring three touchdowns in three different ways; one running, one receiving and one punt return.
The Hornets would receive the opening kickoff and drive the field on big runs by Connor Ramsey and key passing conversions with quarterback Alex Burrell connecting with Brennan Warner. Orsborn punched it in for the first touchdown. The ensuing extra point would fail, making the game 6-0.
The Hornet defense would be stingy the whole day, giving up only a handful of first downs. On the second play of the possession, Burrell would connect with Hauser for a 70 yard touchdown strike. Carson Davis would convert the extra point successfully.
On the Hornets next possession, they would turn the ball over on a fumble, but the defense quickly got a stop and when the offense took over, Hauser took the handoff to the house for his second touchdown of the day.
On the ensuing Cowanesque possession, the Hornet defense would hold forcing a punt. Hauser would return the punt for a touchdown using his video game like moves to score. The Davis extra would convert successfully and the Hornets would go into halftime leading 27-0. The Hornet defense stopped the Cowanesque Valley drive to start the second half and Logan Henry ran for a touchdown to put Wellsboro up 33-0. Burrell would complete the conversion pass to Ramsey to make the score 35-0.
The Hornet defense would start to substitute players, and the substitutes remained aggressive, forcing the ball back to the offense. Alex Moore would break a long run to the 2 yard line, setting up another Henry touchdown. The conversion would fail, leaving the Hornets up 41-0.
Cowanesque Valley would break a long touchdown run with under a minute remaining to avoid being shutout. They would successfully convert their two point attempt, leaving the final score 41-8, Wellsboro.
"Our secondary played well today. Cowanesque took a lot of shots deep on us, and they were able to complete some of those passes last year. Silas, Aidan and Brennan were disciplined in their zones and Carson Davis and Zach Florio did a nice job keeping pressure on the edge from the ends," remarked head coach Shane Mascho. "Tyler Hancock did a nice job in the middle today. He is getting better every week."
The win puts the Hornet record at 3-1 for the year. The Hornets finish the last four games of the season at home, starting by hosting Wyalusing on Wednesday, October 14.