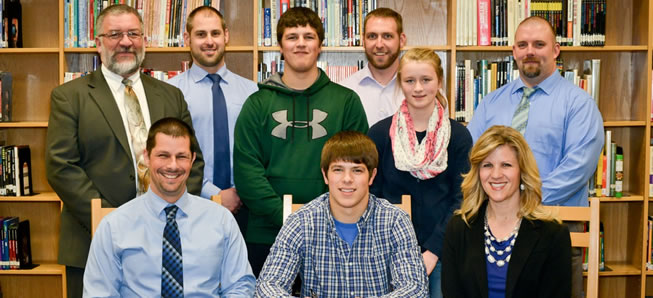 Pietropola commits to IUP
By: Ed Weaver / February 5, 2015
Senior Quarterback Michael Pietropola has committed to play football next season for Indiana University of Pennsylvania next season.
IUP offered Pietropola a scholarship and an opportunity to continue playing football at the collegiate level, which has been a life-long goal for him.
Pietropola took his official visit last Friday and really enjoyed it.
"The people were great the coaching staff was great. I knew when I left on Saturday it was the place for me. I fell in love. The coaching staff, the players, the campus, the football facility, they were all just outstanding!"
Pietropola had numerous offers from other Division II and small Division I programs, but eventually settled on the Crimson Hawks.
"It was definitely a difficult process," Pietropola said. "IUP offered me more than others and a chance to play there. I was not looking at the division of play, I was looking at the opportunity and it's a good opportunity for sure to play at IUP."
Other influences that led to Wellsboro's all-time passing leader's decision were being close to home and that his father and Wellsboro Defensive Coordinator Mike Pietropola played their from 1990-1993.
"The PSAC is one of the best conferences in Division II and a big thing is it's close to home, close to family and friends," continued Pietropola. "I'm excited to stay in Pennsylvania. I have a lot of friends that said they plan to go to my games and family that plans to go to my games."
Pietropola will be one of three incoming quarterbacks, and IUP also returns a quarterback from last season. IUP also inked an elite recruiting class yesterday, that includes a set of brothers that are former 3-star and 4-star recruits that excites Pietropola.
"They are big-time weapons," Pietropola said. "I don't know them personally, but one had signed with Michigan State and one with Virginia Tech. It definitely is good, they are going to be playmakers. It's going to be a lot of fun."
WellsboroFootball.com would like to congratulate Michael on his signing and wish him the best of luck at the collegiate level.