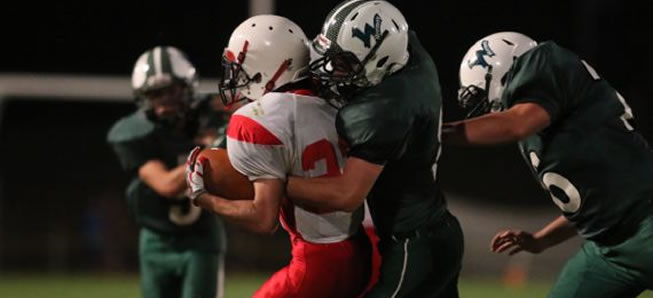 Tremper named to All-State football team
By: Ed Weaver / December 24, 2015
Senior linebacker Nick Tremper was named to the 2015 Pennsylvania Football Writers' All-State Team on Wednesday, December 23.
Tremper, Wellsboro's single-season record holder with 161 tackles, helped anchor the anchor the area's top defense, win the Morton F. Jones Trophy for a fourth straight time over rival North Penn, win the school's first-ever District IV playoff game, win a District IV Championship, and play in the school's first ever PIAA State playoff game.
"I feel honored to have been chosen as an All-State linebacker," Tremper said. "I put a lot of hard work in in the off-season as well as in practice and it is nice to be recognized for that hard work. I also want to thank my coaches and teammates as we achieved great things this year as a team. It feels great to be chosen and I couldn't be happier."
Tremper finished his career with 291 tackles, two interceptions for 45 yards, and five forced fumbles (three recovered). Not only was Tremper a defensive force to be reckoned with, but he was also an offensive threat for Wellsboro by rushing for 664 yards and accounting for 1,089 all-purpose yards.
"I am very proud of Nick. He was a leader for this team both on and off the field and a huge reason why we were so successful," said head coach Matt Hildebrand. "Nick worked very hard both in the off-season and throughout the season. Nick never left the field and would never complain. Every snap, every time you knew you were going to get 100% from Nick. As a coach Nick has been one of the most coachable kids I have had the privilege of coaching. This is a great honor for Nick and our program. Nick deserves this recognition. Myself and the rest of the coaching staff are all very proud of Nick for this honor."
WellsboroFootball.com would like to congratulate Nick on being selected to the All-State team.
View the 2015 Pennsylvania Football Writers Class A All-State Football team.