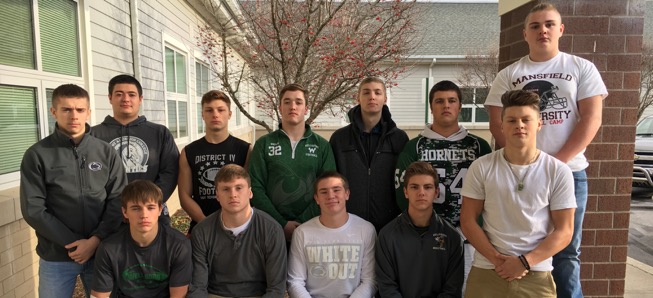 Hornets selected to All-Region Football team
By: Ed Weaver / December 25, 2016
13 members of the Wellsboro Varsity Football team were selected to the Towanda Daily Review's All-Region Football team.
Junior Quinn Henry and senior Parker Jones received two of the Daily Review's top honors. Henry was named Player of the Year and Jones was named Lineman of the Year.
Henry helped guide the Hornets to an 11-1 overall record, including their second undefeated regular season in the last four years and led the Hornets in nearly offensive category. Henry threw for 846 yards and 14 touchdowns, rushed for 1,074 yards and 17 scores, and returned 2 punts for touchdowns.
Jones earned Lineman of the Year honors for being the area's top tight end and defensive end. Jones caught a team-high 19 passes for 251 yards and 4 touchdowns and was third on the team with 96 tackles and led the team with 7 sacks.
Henry (QB), Jones (TE), and junior Collin Pietropola (OL) were all 1st team selections, junior Chase Moser (RB), senior Ethan Nichols (OL), senior Brandon Lamphier (Versatility), and junior Nic Ingerick (K) were all 2nd team picks, and senior Taylor Baker (OL) and junior Dalton Prough (WR) were 3rd team picks. Prough was also selected as a "Star of Tomorrow".
Defensivley Jones (DL), sophomore Robert Brown (LB), and junior Alex Kozuhowski (DB) were 1st team selections, senior Dominic Spencer (DL) was a 2nd team selection, and junior Brent English (LB) was a 3rd team pick.
WellsboroFootball.com would like to congratulate those selected on a great 2016 season and thank them for all their hard work and dedication.