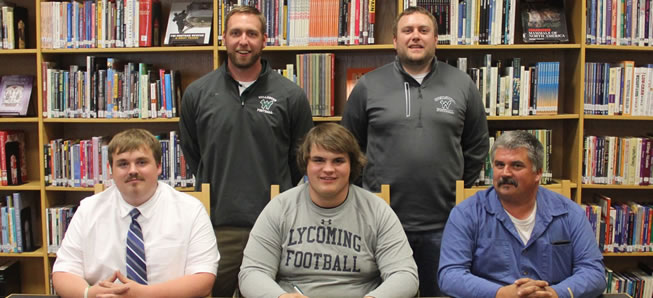 Covert continues football career at Lycoming
By: Ed Weaver / May 19, 2016
Senior Owen Covert announced on Tuesday, May 17 that he will continue his football career this fall at Division III Lycoming College.
Covert has been the Hornets' anchor on the offensive line for the past three years, and help lead the Hornets' to their first-ever District IV championship in his senior year. As part of the offensive line, Covert helped the Hornets rush for 2,575 yards (189.1 yards/game), while only allowing 16 total sacks on the year (1.23 sacks/game).
"I'm pretty excited and really hyped about going to play somewhere that's not Wellsboro and get a little bit of a different feel especially at a high level," Covert said. "Lycoming is a nice little campus where everything is right there. The program is great, both football and academically."
While Covert will start at the bottom in the fall, he feels Wellsboro has prepared him to compete for a starting spot.
"We've always played at a high level and had high standards for ourselves, kind of like a college program I think," continued Covert. "We're definitely one of the better schools in the area and I think its really helped us get ready for the next level."
Covert joins Wellsboro alum, and his offensive and defensive line coach, John Johnston, in addition to five other Hornets (Matt Kennedy, Mitch Marzo, Chris Morral, Will Osgood, and Matt Sweet) to play for the Warriors. Coach Johnston is very proud that Covert is joining the Lycoming program.
"It means a lot to me personally," Johnston said. "Owen has spent a long time with me, a lot of hours together. He's been probably my favorite player I've had the opportunity to coach. Just seeing him grow into the man he is now it means a lot. To see him go to my alma mater and playing football there like I did, I'm excited for the program and I'm excited for Owen. The opportunity to play at a high level and get a high level of education is what really matters. I'm just excited for him and the future."
For head coach Matt Hildebrand, Covert marks the seventh Hornet to continue their playing career since he became head coach in 2013, and his second of the year's senior class.
"Owen has been a constant leader for us for all four years and he's really just done everything I've ever asked of him," Hildebrand said. "When it comes to showing up a fundraisers, showing up to practice you knew every time you got on the field what to expect from Owen. He was always going to give 100%. He constantly did everything we asked of him and did it the correct way and he gave a good example for the rest of the kids to imitate. I'm just really proud of Owen and that he's going to college now and he will continue his football career."
WellsboroFootball.com would like to congratulate Owen on continuing his career, and thank him for all his hard work and dedication to the program during his career.